Cross Border Commissioner newsletter - edition 2
12/09/2019
From the Commissioner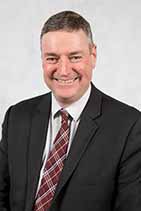 It's been a busy three months since we released our first Cross Border Bulletin in May.
I have continued to travel regularly along our borders, with visits to Portland, Edenhope, Mildura, Cobram-Barooga, Echuca-Moama and Albury-Wodonga. I have also travelled to Melbourne, Sydney, Adelaide, Bendigo, Tatura, Wangaratta and Horsham to meet with stakeholders to discuss cross-border matters.
More than 190 issues have now been collected and we have begun to bring agencies and regulators to the border to meet with residents and businesses, and to jointly discuss reform opportunities.
These meetings are a first step towards creating stronger connections between the states and with border communities, and encourage regulators, agencies and departments to consider border communities when they are developing new policies, regulations and legislation.
The meetings have also highlighted opportunities for the states to provide joint information that explains rule differences so that people living in border communities have a single document they can refer to instead of trying to navigate two different sets of information.
A great example of agencies making a genuine effort to help people navigate the rule differences is boating, where Maritime Safety Victoria and Roads & Maritime Services (NSW) have released a single, joint publication explaining how it works.
We look forward to ongoing engagement with the various regulators, agencies and departments and thank them for coming to the border to hear these experiences.
Luke Wilson
Cross Border Commissioner
Don't put up with it
If you know of a border anomaly, raise it with us. No matter how big or small, or even if you think others have raised it already. Ideas that seem fine in Melbourne, Sydney or Adelaide don't always make sense at the border.
Border visits
If you'd like to meet with us, get in touch and we can schedule a time. We're also happy to attend meetings or events of business or community groups.
Bringing Melbourne and Sydney to the border
Building industry
In late July, the Master Builders Association Victoria (Wodonga region), Victorian Building Authority and Department of Environment, Land, Water and Planning met in Wodonga to discuss the challenges faced by those in building trades in border regions
Commercial passenger vehicles
In early August, NSW Cross-Border Commissioner James McTavish and I welcomed Commercial Passenger Vehicles Victoria (CPVV) CEO Aaron de Rozario and NSW Point to Point Transport Commissioner Anthony Wing to Albury-Wodonga.
A number of border taxi, hire car and bus operators shared their experiences navigating the two state-based regulatory systems.
Victoria has now updated its mutual recognition process to allow NSW commercial passenger vehicle drivers to apply for mutual recognition in Victoria. More information can be found on the CPVV website.
L-R: James McTavish (NSW Cross-Border Commissioner), Anthony Wing (NSW Point to Point Transport Commissioner), Amanda Gleeson (NSW Point to Point Transport Commission), Aaron de Rozario (CEO Commercial Passenger Vehicles Victoria), and Luke Wilson (Victoria's Cross Border Commissioner) at a border meeting in Albury-Wodonga in August.
Vocational Education and Training
In late August, James McTavish and I facilitated a meeting in Mildura with representatives from Training Services NSW and Victoria's Department of Education and Training to discuss the impacts of differences in the two state-based TAFE systems.
Sunraysia Institute of TAFE spoke about the difficulties with providing services across the border and the impact it has on businesses and students, and a local business spoke about the impacts on both the business and its employees.
Responsible Service of Alcohol
In late August, James McTavish and I partnered with the Committee for Echuca Moama to host a roundtable discussion on the cost, impact and practicality of cross-border anomalies in the Responsible Service of Alcohol certification system.
It was attended by representatives from the Victorian Commission for Gambling and Liquor Regulation and Liquor & Gaming NSW, and a range of community members, businesses and groups shared their experiences.
In early September NSW introduced a new bridging course for interstate RSA holders. More information can be found on the Liquor & Gaming NSW website.

The roundtable discussion in Echuca-Moama on the Responsible Service of Alcohol certification system.
Border information sessions for portable long service benefits
A new portable long service leave benefits scheme for Victorian workers in the community services, cleaning and security sectors began on 1 July 2019.
I had the opportunity to meet with the CEO of the new Portable Long Service Benefits Authority in July to talk about the importance of communicating how the scheme will operate for workers and businesses in border communities.
The Authority is currently holding information sessions across the state, with sessions already held in border communities Wodonga, Mildura, Swan Hill, Echuca and Portland.
Funding for cross-border projects
Are you looking for funding for an economic or infrastructure project along the NSW-Victorian border where the benefits are shared between the states?
The NSW Cross-Border Commissioner's Infrastructure Fund provides access to funding for projects along the border that would otherwise be ineligible because of the leakage of social, economic, environmental or cultural benefits. The projects can be located in local government areas in either NSW or Victoria that are adjacent to the NSW border.
Expressions of interest for the fund are now open. Contact Kate Moodley at the Office of the NSW Cross-Border Commissioner:
Email: kate.moodley@dpc.nsw.gov.au
Phone: (02) 9228 4737
Have your say on Victoria's new environment protection laws
On 1 July 2020, Victoria's new environment protection laws are intended to come into effect.
The Environment Protection Authority Victoria and the Department of Environment, Land, Water and Planning are encouraging all Victorians to review and have their say on the proposed environment protection regulations and environment reference standards.
Border communities have raised a number of queries related to areas this legislation covers, particularly waste management, and this submission process is an important opportunity ensure that border voices are heard and considered.
Submissions close on 31 October 2019 and information can be found on Engage Victoria website.
Submissions to Parliamentary inquiries
State and Commonwealth Parliaments conduct inquiries from time to time, providing the opportunity for public input. Some of these inquiries will touch on border issues.
There is currently an inquiry into the Commercial Passenger Vehicle Industry Act 2017 Reforms.
This inquiry is of interest to taxi, hire care and bus operators. Submissions closed in June, however information about the inquiry and copies of the submissions accepted are available on the inquiry's website.
What is a cross border issue?
Issues are usually one of three types:
Some are about different rules – like the varying rules for L and P plate drivers, or multiple licensing for tradespeople.
Others are the result of different policies and practices – state A does it this way, state B does it that way. Both might be reasonable, but when you live in the middle of the two, it can get messy.
The third are the opportunities for joint effort. For example: "Wouldn't it be better if we could market our tourism offerings together rather than separately?" It's not about rules, it's about working together.
What happens with an issue after it has been raised?
Every border issue or opportunity raised is reported to the Minister for Regional Development, The Hon Jaclyn Symes MP, and relevant Victorian and interstate government departments, agencies and Ministers.
We play an active role in helping departments and agencies understand the issue and how it is impacting on border residents and businesses, and in looking for solutions.
Working with New South Wales
The State Governments of both Victoria and New South Wales are developing a Memorandum of Understanding (MOU), confirming the commitment of each to working together on priority border issues.
Usually signed by Premiers, an MOU will help Cross Border Commissioners pursue change.
The NSW Cross Border Commissioner is Mr James McTavish, and we are in contact regularly as we refer matters to each other.
---
Subscribe to receive Cross Border Commissioner news
---