Cross Border Commissioner newsletter - edition 4
29/07/2021
Edition 4, July 2021
From the Commissioner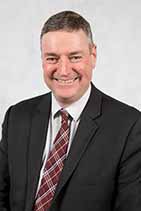 Half way through 2021, and the start of FY 2021/22, for the first time in a long time we had managed to accumulate a few weeks of clear running at border issues without too much interruption by COVID-related border restrictions – until June anyway. The good news is that special arrangements for border residents under those various state border restrictions are a more normalised experience now.
Part of the period of April/May saw us back on the road visiting communities along Victoria's borders with South Australia and New South Wales. That has had and will have us visiting many of our smaller border locations sch as Nelson, Apsley, Bordertown, Murrayville, Renmark, Lindsay Point, Robinvale/Euston, Balranald, Piangil, Murrabit, Koondrook, Towong, Corryong, Bonang, Delegate River, Bendoc, Wroxham and Mallacoota, in addition to the usual larger towns like Mildura, Echuca-Moama, Yarrawonga-Mulwala, Portland, Mount Gambier and Albury-Wodonga.
Image above: Luke Wilson, Victorian Cross Border Commissioner, Cr Jason Modica, Mayor, Mildura Rural City Council, Cr Susan Nichols, Mayor, Wentworth Shire Council, and James McTavish, NSW Cross Border Commissioner (left to right) at joint meeting of Mildura and Wentworth Shires with Victorian and NSW Cross Border Commissioners in May 2021 in Mildura
And I say "us" because I have managed to reform the small team at the Office of the Cross Border Commissioner over recent months to better manage the influx of border restriction enquiries and now to pick up effort on the more regular variety of border issues. So welcome to Carolynn Mihan, based in Mildura, and Tanya Egan, based in Warrnambool; ably supported during peak enquiry periods by Tamie Walsh.
In this bulletin I report on several developments over last year. So my call to our border communities is to keep raising issues, whether COVID-related or not, and if you would like to discuss these face to face let us know at the contact points at the end of this bulletin as we are sure to be in your area soon.
Luke Wilson
Cross Border Commissioner
Border communities acting together
In 2020, following South Australia's introduction of border restrictions, a group of border residents came together to share information and experiences through the border rules on a Facebook group called: Cross Border Call Out. The group is run by volunteers and had such impact that South Australia was soon providing information to it as part of its information distribution strategy.
Not surprisingly, this group also turned its focus on Victoria with the commencement of Victoria's border restrictions in late November 2020. Indeed, members of this group also recently ran an email-in campaign to raise the profile of the ongoing permit requirements people along this border face. That campaign helped my advocacy, which resulted in the recent change to allow residents along that border to use a photo ID rather than a permit for crossing into Victoria, mirroring the arrangement along the NSW border.
We also saw similar, and often quite local, online border community groups pop-up. Providing links to source information about border rules, live commentary on traffic delays at key crossings, and often useful advice about local business and community impacts.
These border resident groups raise the profile of the impact of restrictions on their border communities, which certainly helps my advocacy work, and also help keep the social fabric of border communities together when other forces pull them apart.
Minister for Regional Development
Over summer we saw the appointment of a new Minister for Regional Development and Minister for Agriculture in Victoria, The Hon. Mary-Anne Thomas MP. As Minister for Regional Development, Minister Thomas becomes the lead for cross-border matters in Victoria's government.
Having grown up in Wodonga area, Mary-Anne loves living in Kyneton. She is an avid reader who enjoys spending time with her family, and enjoying all that life in regional Victoria has to offer. As a member of St Kilda Football Club, she continues to live in hope of another Premiership in her lifetime.
Since her appointment as Minister, Mary-Anne has travelled to each corner of our state, meeting with the many businesses, farmers, local councils, community organisations and representatives who make our state so prosperous and diverse.
MOU with NSW
Signing of the much anticipated Memorandum of Understanding for Cross-Border Collaboration (the MOU) was completed in 2020 by the Premiers of Victoria and New South Wales. The MOU allows the NSW Cross Border Commissioner and myself to auspice reform to priority cross-border issues with the relevant government departments responsible for each issue.
Having the MOU in place also allows Victorian applicants (such as local shires) to access the New South Wales Cross-Border Commissioner's Infrastructure Fund – available to co-fund the development of border infrastructure in either state that provides benefits to communities on both sides of a border. Get in touch to find out more.
Liquor regulation
Following intensive work through 2019 and into 2020, including convening a session in Moama NSW in August 2019 with staff of both state regulators and impacted community members, there have been a series of changes in liquor regulation in both Victorian and NSW to ease, if not remove entirely, some of the anomalies along the border.
As of 1 July 2021, Victoria has aligned its RSA with the nationally accredited RSA qualification, which can be delivered online or face to face. Victoria also now makes allowance for attendance at short-term producer events if an appropriate accreditation is held, and a free online bridging is available for eligible interstate RSA holders.
Automatic Mutual Recognition
The Mutual Recognition (Victoria) Amendment Bill 2021 passed through Victoria's Parliament in June 2021. This bill is part of a national program to change the existing mutual recognition scheme to operate automatically for covered occupations. This would mean that a licensed tradesperson could ply their trade in other jurisdictions without having to seek specific registration in that jurisdiction. However, just like a driver licence, you would still need to follow the rules applying in the jurisdiction in which you are working. These amendments are rolling out nationally. The best source of information for how and when this might affect you will be your relevant regulator for your trade or occupation.
Mental Health Royal Commission
The Royal Commission into Victoria's Mental Health System delivered its final report on 3 February 2021 and it was tabled in Parliament by the Victorian Government on 2 March 2021.
I wrote to the Royal Commission in January 2021 and met with Commissioners in March 2020 to describe some of the mental health concerns at the border, noting that Victorian residents at the border often use mental health services in NSW or SA, and residents of NSW or SA often use services from Victoria.
Albury Wodonga Health and Gateway Health made submissions emphasising border experiences with mental health.
The Commission's report includes some of the border issues raised, especially the impact of some legislative differences between states. I encourage border residents and service providers to keep raising border issues with mental health services so that we can have future reforms capture the border experience.
Macklin VET review
The final report of the Skills for Victoria's Growing Economy review, Future Skills for Victoria – Driving collaboration and innovation in post-secondary education and training was released on 3 February 2021. The review was Chaired by The Hon. Ms Jenny Macklin, former member of the Parliament of Australia.
Issues around access to vocational training is one of the most common border issues raised. I wrote to the review in May 2020 to describe those issues, and the report has identified them in its report. The response to that review includes opportunities to improve access for border residents.
Consultations
Many government consultation processes in Victoria work through Engage Victoria. You can check there regularly or register to be notified of topics that are running. But get involved and have your say, so that border views can be heard.
You may also wish to take part in parliamentary committee inquiries. Submissions and hearing for these in Victoria are listed on the Parliament of Victoria website. Similar committee inquiry details can also be found on the websites for the Parliaments of New South Wales, South Australia, Tasmania and Australia.
Coronavirus
For the most up to date information about coronavirus (COVID-19) and current measures in Victoria visit www.coronavirus.vic.gov.au, or call Victoria's coronavirus (COVID-19) hotline on 1800 675 398.
Businesses can call Business Victoria's dedicated hotline 13 22 15 from within Victoria, or 1800 136 034 outside Victoria, or visit business.vic.gov.au.
Don't put up with it
If you know of a border issue, raise it with us. No matter how big or small, or even if you think others have raised it already. Ideas that seem fine in Melbourne, Sydney or Adelaide don't always make sense at the border. One voice can make a difference!
You can get in touch via:
Email: enquiries@crossborder.vic.gov.au
LinkedIn: linkedin.com/company/cross-border-commissioner
Post: PO Box 1332, Wodonga VIC 3689
Phone: 0436 642 436
What happens with an issue after it has been raised?
At a minimum, every border issue or opportunity raised is reported to the Minister for Regional Development, The Hon Mary-Anne Thomas MP, the Parliamentary Secretary for Regional Victoria, Ms Danielle Green MP, relevant Victorian and interstate government departments or agencies and relevant Ministers.
When required we play an active role helping departments and agencies to understand the issues raised and how they are impacting on border residents and businesses. This includes bringing agencies to the border to meet with their cross-border counterparts and to hear from impacted residents and businesses directly.