What are Regional Partnerships?
What do Regional Partnerships do?
What are Regional Assemblies?
When are the 2018 Regional Assemblies?
Are the Regional Partnerships having an impact?
How do I find my local Regional Partnership?
How can I have my say?
Latest Regional Partnership news
---
Victoria's Regional Partnerships were established by the Victorian Government in 2016 recognising that local communities are in the best position to understand the challenges and opportunities faced by their region.
Through ongoing consultation, and an annual Regional Assembly, the Partnerships ensure regional communities have a greater say about what matters to them, and that the voices of these communities are heard directly at the heart of Government.
The nine Regional Partnerships are shown on the map below. They are from west to east: Mallee, Wimmera Southern Mallee, Great South Coast, Central Highlands, Loddon Campaspe, Barwon, Goulburn, Ovens Murray and Gippsland.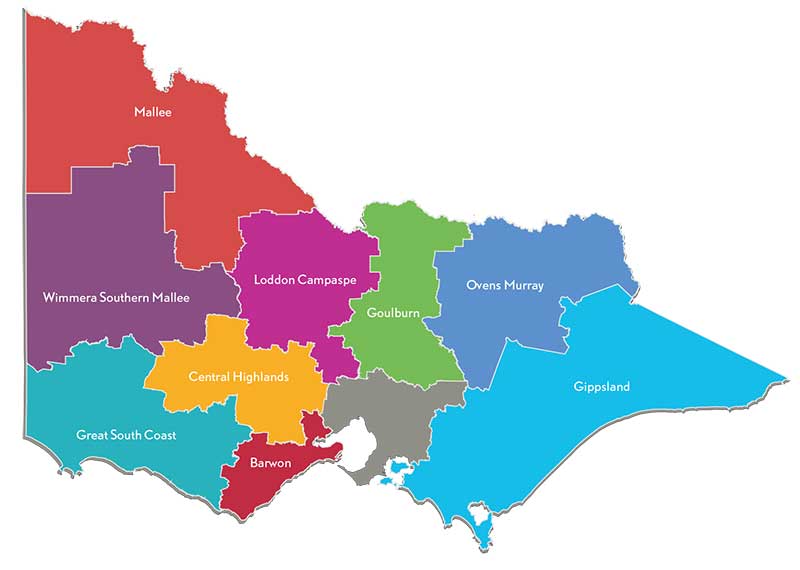 The Regional Partnerships are made up of community and business leaders who are passionate about regional Victoria. They are joined on the Partnerships by the CEOs of local councils, a representative of Regional Development Australia and a Victorian Government representative. Regional Partnerships were the centre-piece of Victoria's Regional Statement.
Regional Partnerships consult and engage with their communities year-round to identify priorities for their regions and to develop collaborative solutions to local problems.
From transport and education, to tourism and economic opportunities, the Regional Partnerships provide an opportunity for local communities to have their voices heard and acted on.
The Partnerships provide advice directly to the Victorian Government about these regional priorities so they can then be incorporated into government policies, programs and planning.
Partnerships work across all government portfolios and with the three levels of government to address the often complex issues facing rural and regional communities. They build on and complement existing regional leadership and working groups and strategic planning processes.
The cornerstone of the Regional Partnerships' engagement with their communities are the annual Regional Assemblies, first held in 2016 and again in 2017.
Across the nine Partnerships, more than 2,000 people attended a Regional Assembly in 2017.
Each 2017 Assembly was unique, but some themes were common across Assemblies. For example, key topics for discussion across many of the 2017 Assemblies were transport, digital connectivity, education, health outcomes, tourism and the economy.
Following each 2017 Assembly, the Partnership Chair wrote to attendees with a report back. Each Partnership then took messages and learnings from its 2017 Assembly, and from its wider consultation (including mini Assemblies, round tables, online consultations), and distilled this into priorities to present to Government.
Dates for Regional Assemblies 2018 have now been announced.
To register for the Goulburn Regional Assembly, click here.
To register for the Barwon Regional Assembly, click here.
| Date | Partnership | Assembly Location |
| --- | --- | --- |
| Thurs 3 May | Loddon Campaspe | Kyneton |
| Wed 30 May | Wimmera Southern Mallee | Stawell |
| Thurs 31 May | Mallee | Kerang |
| Wed 13 June | Great South Coast | Hamilton |
| Thurs 14 June | Central Highlands | Ballarat |
| Wed 27 June | Ovens Murray | Wangaratta |
| Thurs 28 June | Gippsland | Wonthaggi |
| Wed 18 July | Goulburn | Shepparton |
| Thurs 19 July | Barwon | Wallington/Ocean Grove |
Click here for the latest Regional Partnership news.
Regional Partnerships are still quite new but are already seeing the results of their work, with the Victorian Government listening to and investing in what Partnerships – and their communities – are asking for.
Following the 2016 Assemblies, each of the nine Partnerships asked for improvements to digital infrastructure, and in May 2017 the Government announced a $45 million Connecting Regional Communities Program bringing regional Victoria better broadband, mobile coverage and Wi-Fi hubs. Better rail was a high priority for many Partnerships and the Government also announced major investments in rail in regional areas.
The Victorian Government also announced support for specific priorities identified by Regional Partnerships. Projects include $12 million for the North-East Cycling Optimisation Project to strengthen the reputation of the Ovens Murray Region as a world class cycling destination and funding to explore and develop a business case around establishing a Cross Border Commissioner for Victoria.
Securing funding for priority initiatives is only one way in which Partnerships are having an impact. They are also building relationships right across Government and are having an impact on the way government works and delivers services and programs in regional areas. For example, in the Wimmera Southern Mallee region, as a direct result of work by the Partnership, new ways to deliver early years programs are being trialled.
Regional Partnership boundaries were mapped in consultation with local communities, bringing together areas with common interests. As a result, the Partnerships are smaller than Regional Development Australia areas and Regional Development Victoria's five administrative boundaries.
The nine Regional Partnerships are:
The focus for each Partnership's consultation is the annual Regional Assembly. However, you can have your say and get involved year-round through the Partnership's engage page which gives you a chance to speak to Partnership members directly. The engage page also contains contact details for Partnerships.
You can find out more about your local Partnership by clicking on the individual Partnership's page above or on the Partnership list in the drop-down menu. From the individual Partnership web page, you can quickly link to its engage page and have your say.