The Barwon Regional Partnership is one of nine Partnerships across the state, established in 2016 by the Victorian Government in recognition that local communities are in the best position to understand the challenges and opportunities faced by their region.
From the famous Great Ocean Road coastline to the Otway forests, from rich farmland to the streets of Victoria's biggest regional city, Geelong, our region spans spectacular and diverse landscapes.
We have a dynamic economy, with a strong manufacturing and processing sector, and great potential for growth in the professional services, tourism, international education, healthcare, Information and Communication Technologies and agribusiness sectors.
Our region includes:
four municipalities:

a Gross Regional Product of $18.36 billion
a population of 333,900
more than 17% of residents were born overseas.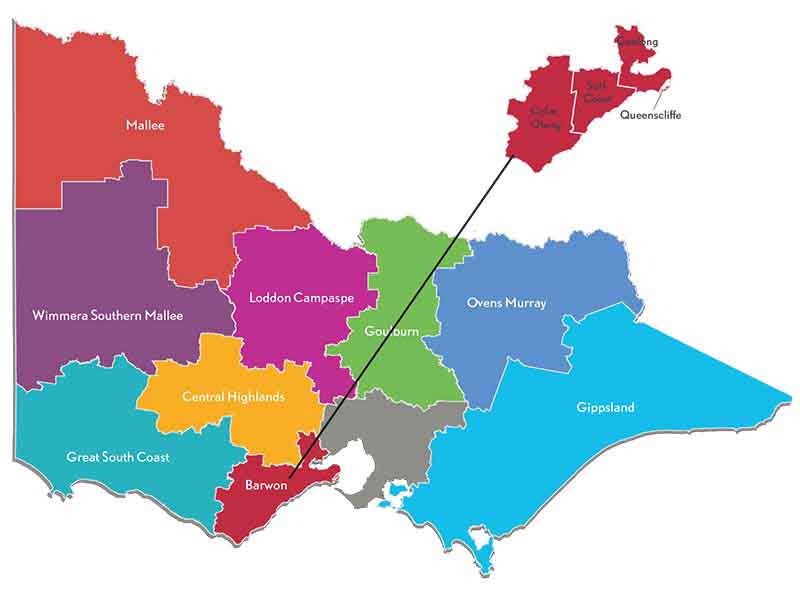 Our focus
The Barwon Regional Partnership has established a 'Good Growth' framework which outlines the long-term outcomes the Partnership is striving to achieve. The Good Growth framework is underpinned by four key principles:
Economic and population growth that is environmentally and socially sustainable
Benefits must be shared equitably supporting the vulnerable and marginalised
Embrace and embed our region's rich Aboriginal culture
Create and maintain safe, vibrant, highly livable communities.