The Barwon Regional Partnership is one of nine Partnerships across the state, established by the Victorian Government in recognition that local communities are in the best position to understand the challenges and opportunities faced by their region.
From the famous Great Ocean Road coastline to the Otway forests, from rich farmland to the streets of Victoria's biggest regional city, Geelong, our region spans spectacular and diverse landscapes.
We have a dynamic economy, with a strong manufacturing and processing sector, and great potential for growth in the professional services, tourism, international education, healthcare, Information and Communication Technologies and agribusiness sectors.
Our region includes:
four municipalities:

a Gross Regional Product of $17.621 billion
a population of 324,307
more than 10% of people speaking a language other than English at home and more than 16% were born overseas.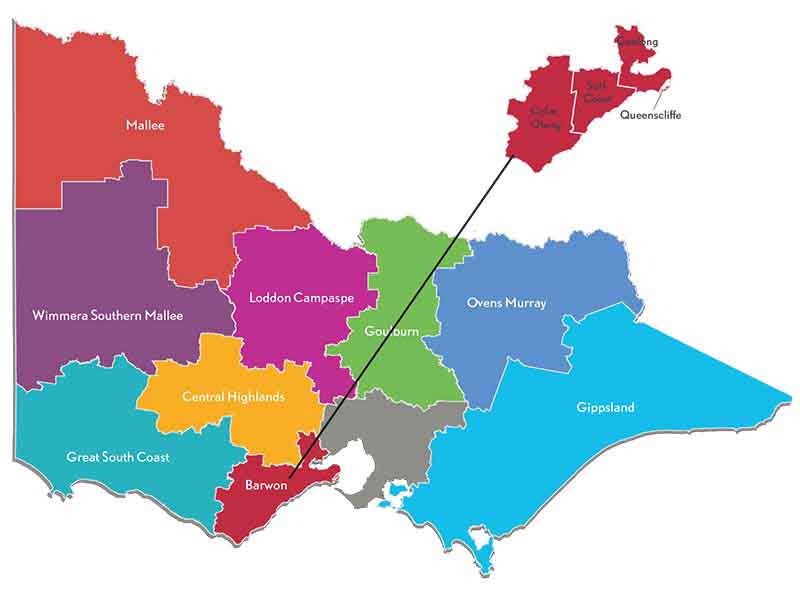 The Barwon Regional Partnership was established in 2016 with the first term members responsible for the setting of the Barwon Outcomes Roadmap Barwon Outcomes Roadmap (PDF 648.86 KB)

- a summary of the key long term outcomes the Partnership is striving to achieve and what success will look like for the region.
Second term committee members were appointed at the beginning of 2021 and look to build on the established outcomes with a focus on:
Smart economic and population growth that is environmentally and socially sustainable. The benefits of growth must be shared equitably across our region, creating safe, vibrant, and highly liveable communities.
Supporting Innovation and the translation of great ideas into products and services that create real value.
Working closely with stakeholders to understand their priorities, establish shared imperatives and collaborate on delivering outcomes.
Partnering with Traditional Owners and the wider Indigenous community to embed Indigenous culture and perspectives into every initiative and achieve better outcomes for the region and for First Nations People.
How projects and initiatives are delivered, with intent to leverage all opportunities available and maximise benefits to the region.
Each year, the Partnership engages with the Barwon community and presents a set of regional priorities to the Victorian Government.
The Partnership looks to champion initiatives that will enhance the social, cultural, environmental, and economic wellbeing of the communities in the Barwon region.
While Partnership priorities have been supported in successive budgets our work is much more than winning funding at Budget time.
We have been active in bringing different groups and parts of Government together in our region, in getting people talking, listening to the needs and expectations of our communities, and providing Governments with insight into how we can design policy to effectively service our region.