Our Region and Our Partnership
The Mallee Regional Partnership is one of nine Partnerships across the state, established by the Victorian Government, recognising that local communities are in the best position to understand the challenges and opportunities faced by their region.
Bordering the Murray River, our region extends to the edge of the outback in far north-western Victoria.
Agriculture – broadacre cropping and irrigated – drives the Mallee's economy, with the area surrounding Mildura, Robinvale and Swan Hill among Victoria's most productive horticultural region.
Our region is a culturally diverse area, with strong indigenous heritage and a large Aboriginal population, and a growing number of skilled migrants and people holding humanitarian visas.
The Murray River runs along the northern border of the region and provides us with access to irrigation water. It also lures tourists and people seeking a lifestyle change.
Our region includes: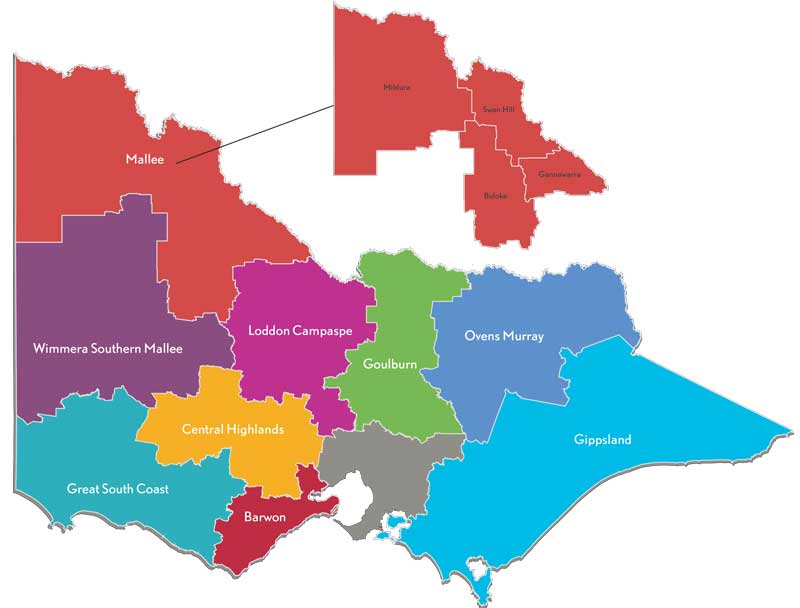 Since our establishment in 2016, the Mallee Regional Partnership has been active consulting and engaging with thousands of people living and working in our community, including through Regional Assemblies.
As a result of our consultations and what we hear, we present annually on our region's priorities to the Victorian Government and have had a number of these priorities supported by Government in successive Budgets.
As a result, we have seen a number of Partnership-championed projects get off the ground.
However, the Partnership is about more than winning funding at Budget time.
We have been active in bringing different groups and different levels and parts of Government together in our region, in getting people talking and listening, and in providing Governments with insight into how we can better design policy so it fits the needs and expectations of our communities.
The Partnership has recently completed an outcomes roadmap - a summary of the key outcomes the Partnership is striving to achieve, as well as a description of what actions are being taken to achieve these outcomes, and what success will look like for the region.