The Great South Coast Regional Partnership was established in 2016 and is one of nine Partnerships across the state, established by the Victorian Government in recognition that local communities are in the best position to understand the challenges and opportunities faced by their region.
The Great South Coast region of south-west Victoria extends from the iconic Shipwreck Coast to the South Australian border.
The region's world-famous Great Ocean Road and Twelve Apostles attract millions of visitors annually who come to enjoy our spectacular coastline and natural scenery. The region is also home to internationally recognised areas of indigenous significance, including UNESCO World Heritage listed Budj Bim Cultural Landscape, just outside Warrnambool.
Great South Coast was recently acknowledged by the Australian Bureau of Statistics (ABS) as Australia's largest agriculture producer. Our agricultural and fishing sectors underpin our local economies and offer great opportunities for growth through diversification and value-add. The region is also home to one of Australia's premier deep-water ports at Portland.
Our region includes: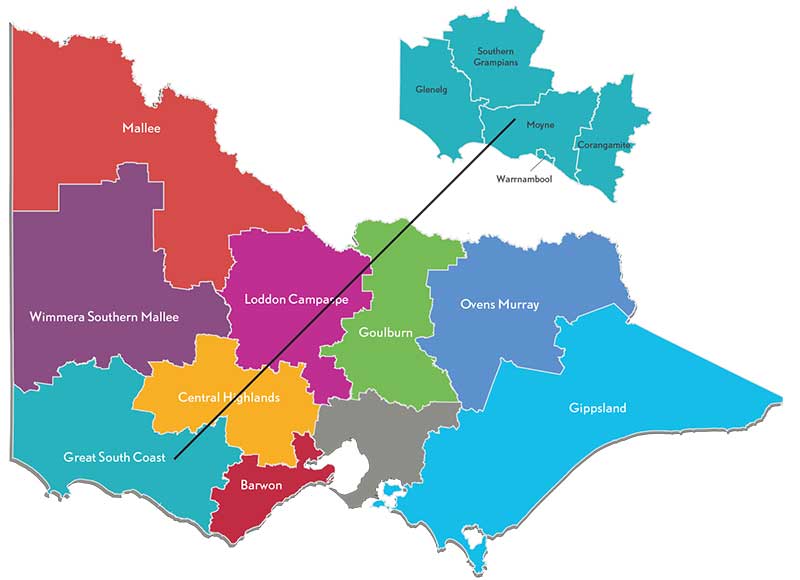 Our focus
We will be a region that has the prescience, steadfastness and determination to invest in the platforms that enable the intelligent and harmonious development of our unique human, societal, economic and environmental attributes.
The Great South Coast Partnership decision-making matrix includes 6 strategic investment platforms:
Commerce and industry
Transport networks and infrastructure
Digital capability and connectivity
Housing
Education and training
Health and community wellbeing
This includes 4 underpinning conditions:
Workforce participation
Equity of opportunity
Diversity and social cohesion
Environmental sustainability.