The Great South Coast Regional Partnership is one of nine Partnerships across the state, established by the Victorian Government in recognition that local communities are in the best position to understand the challenges and opportunities faced by their region.
Our region in south-west Victoria extends from the iconic Shipwreck Coast to the South Australian border.
The region's world-famous Great Ocean Road and Twelve Apostles attracts thousands of visitors annually who come to enjoy our spectacular coastline and stunning natural scenery. The region is also home to internationally recognised areas of indigenous significance, including Budj Bim Cultural Landscape, near Heywood, and Tower Hill, just outside Warrnambool.
As well as a growing tourism industry, agricultural and fishing sectors underpin local economies. The region is also home to one of Australia's premier deep water ports at Portland.
Our region includes: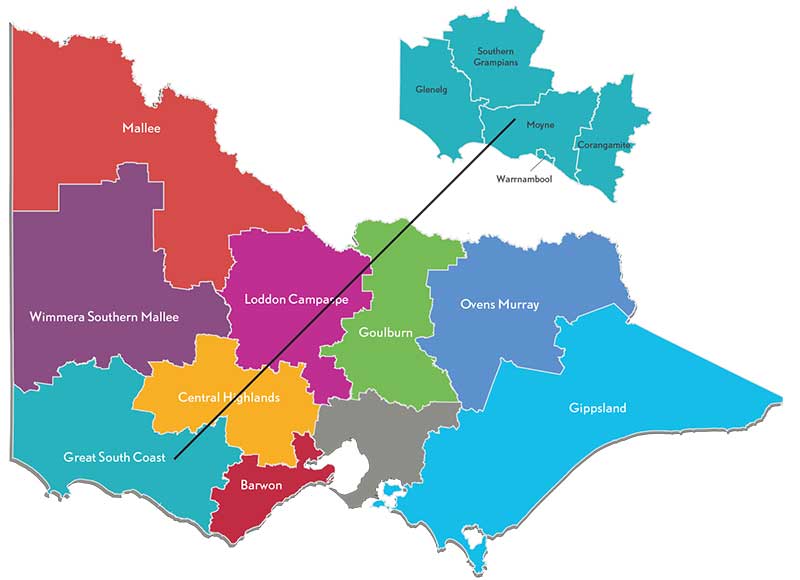 Established in 2016, Victoria's second term Regional Partnership committees were appointed at the beginning of 2021.
Over the next four years, the Great South Coast Partnership will focus on:
Commerce and Industry - Diversification for Resilience and On-Going Relevance
Transport Networks and Infrastructure - Safe, Efficient, Economical and Well Integrated Rail and Road Systems
Digital Infrastructure - Full Membership of the Digital Community
Housing – Sufficient, Fit-for-Purpose Housing Stock
Education - Multiple Doorways to Career Opportunities
Health - A Healthy, Well-Adjusted Community
The Partnership played a key role in providing the State Government a deep understanding of local COVID-19 impacts and opportunities through our Great South Coast coronavirus roundtable. It engaged Regional Development Australia members and local leaders to provide live insight of the pandemics impact and helped shaped the government's recovery response.
Our Partnership presents annually to Government on our region's priorities. The Partnership has completed a Great South Coast Outcomes Roadmap (PDF 551.03 KB)

- a summary of the key outcomes the Partnership is striving to achieve long term, as well as a description of the actions and key projects the Partnership is focussing on, and what success will look like for the region.
While Partnership projects have been supported in successive budgets our work is much more than winning funding at Budget time.
We have been active in bringing different groups and parts of Government together in our region, in getting people talking, listening to the needs and expectations of our communities, and providing Government with insight into how we can design policy to effectively service our region.
GSC Regional Partnership – At a glance, a snapshot of what we've been up to (PDF 2158.07 KB)