Our Region and Our Partnership
The Central Highlands Regional Partnership is one of nine Partnerships across the state, established by the Victorian Government, recognising that local communities are in the best position to understand the challenges and opportunities faced by their region.
Our region spans the east-west transport corridor connecting Melbourne to western Victoria. The region's bustling major centre, Ballarat, has the fastest growing population of any regional city in Victoria, while our region also takes in the Rural City of Ararat in the west, the mineral springs at Daylesford, Bacchus Marsh in the east and Bannockburn in the south.
Our region includes: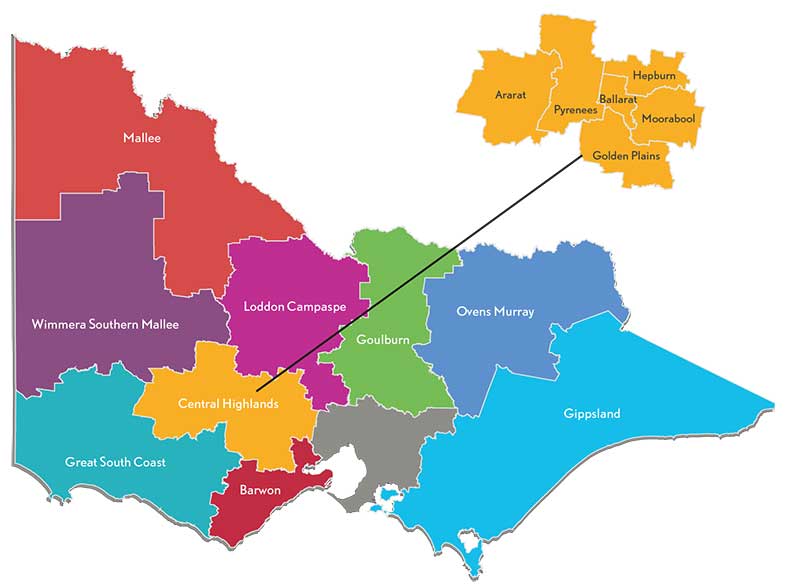 Since our establishment in 2016, the Central Highlands Regional Partnership has been active consulting and engaging with thousands of people living and working in our community.
From 2016 to 2018, this included through annual Regional Assemblies however, in 2019 our engagement is evolving and becoming much more focussed, with a small number of targeted deep-dive engagements.

Our Partnership presents annually to Government on our region's priorities. However, in early 2019, the Partnership completed a Central Highlands Outcomes Roadmap (PDF 893.6 KB)

- a summary of the key outcomes the Partnership is striving to achieve long term, as well as a description of the actions and key projects the Partnership is focussing on, and what success will look like for the region.
Over the past three years, a number of Partnership priorities have been supported in successive Budgets and, as a result, we have seen a number of Partnership-championed projects get off the ground.
However, the Partnership is about much more than winning funding at Budget time.
We have been active in bringing different groups and different levels and parts of Government together in our region, in getting people talking and listening, and in providing Governments with insight into how we can better design policy so it fits the needs and expectations of our communities.
Central Highlands Regional Partnership – At a glance, a snapshot of what we've been up to

(PDF 3885.5 KB)