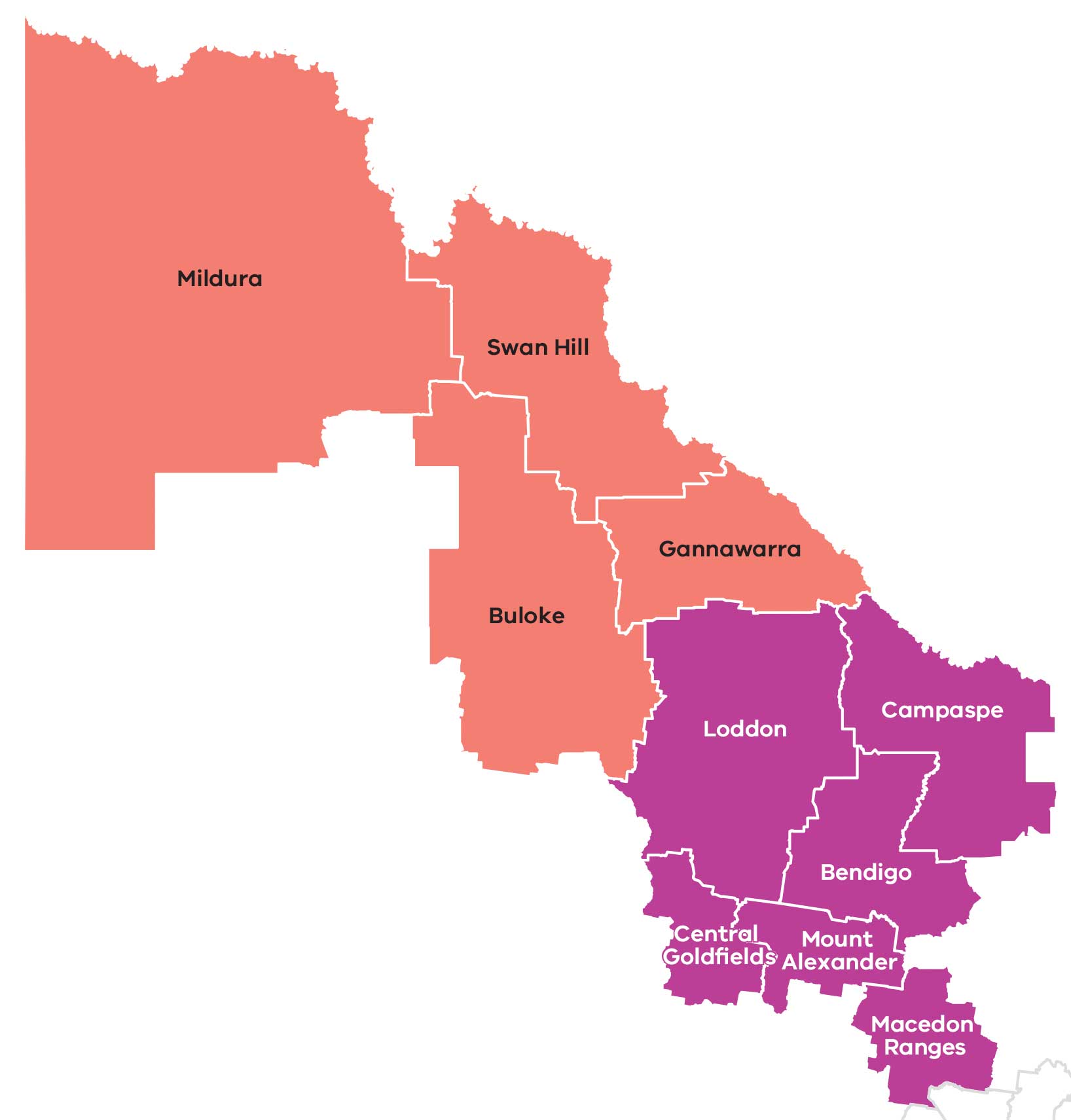 The Loddon Mallee region occupies more than a quarter of Victoria and with one of the most consistently warm climates in the State, people flock to the region for the waterways of the Murray River, acclaimed restaurants and wineries, heritage towns, and grand forests. The Loddon Mallee region includes the two sub-regions of Loddon Campaspe and Mallee.
Recent government investment
The Loddon Mallee region is benefiting from a range of investments including:
$30 million for Stage 1 of the Murray Basin Rail Project, up to $220 million once the business case is finalised
$5 million for Bendigo Aspire Project
$5 million for Bendigo Stadium
$500,000 for Wedderburn streetscaping
$2 million for Bendigo Metro Rail
$2 million for Go Goldfields
$1 million for Harcourt Mountain Bike trail
$300,000 for Career Horizons
$150,000 for Passions and Pathways
$150,000 for Wandong/Wallan/Heathcote Rail trail
$100,000 for Kyneton Showgrounds Lights upgrade
Planning for a Tech School in Bendigo
School upgrades:

Bendigo Senior Secondary College
Castlemaine Secondary College
Epsom Primary School
Kalianna Special School (planning)
Kyneton Primary School
Kyneton Secondary School
New Gisborne Primary School
White Hills Kinder
Huntly Kinder
Spring Gully Kinder
Axdale Preschool
Havilah Road Preschool.
Main towns
Bendigo, Castlemaine, Echuca, Gisborne, Kerang, Kyneton, Maryborough, Mildura, Swan Hill, Wedderburn, Wycheproof.
Municipalities
Employment and industry
Loddon Mallee has a growing economy in tourism, viticulture, equine, horticulture, crops, cattle, manufacturing and wool production. As a major food producing area, the region is also home to a vibrant manufacturing and service sector. The Bendigo Bank is the only Australian bank to be headquartered in a regional area.
Learning and education
The region offers a broad range of educational facilities including pre-schools, primary schools, secondary schools, TAFE campuses, La Trobe University campuses in Bendigo and Mildura, and the Swan Hill International College.
Sports and recreation
With many sporting grounds, golf courses, water skiing, swimming, lawn bowls and tennis venues on offer, there is something for everyone. Theatres and arts centres are open throughout the year with community-based theatre companies upholding a strong tradition in regional communities.
Arts and culture
Festivals such as the Mildura Jazz, Food and Wine Festival, Bendigo Blues and Roots Festival, and significant events at Hanging Rock attract visitors from far and wide. Bendigo Art Gallery is also attracting substantial visitors with its temporary exhibitions as well as extensive collection of 19th century European Art and Australian art from 1800s onwards. Locals can also see Sun Loong the Chinese dragon parade through the streets of Bendigo for the annual four-day festival at Easter, listen to some of the country's finest folk artists at the Maldon Folk Festival, or stroll the many stunning gardens open during the Castlemaine Festival of Gardens.
While in the region, visitors and locals alike enjoy our iconic and widely acknowledged restaurants whether in Piper St Kyneton, the wharf area of Echuca, our Goldfields towns of Castlemaine and Bendigo or destination dining in Mildura.
Opportunities
Dry land farming continues to be a major economic driver for the region
Employment is growing in the services sectors, particularly in health and education, and related industries, such as IT and professional and business services, are also strong.
The Bendigo area is benefiting from improved transport links with Melbourne.
New opportunities are likely to emerge in renewable energy (particularly large scale solar), mineral sands and nature-based and Indigenous tourism.
Challenges
Viticulture and wine making is endangered by volatility in global markets and oversupply in some segments of local markets.
Reduced water inflows in upper catchments are likely to produce continuing uncertainty for the horticulture sector.
Growth in the mineral sands mining industries will increase freight traffic throughout the region, with flow-on for road and rail infrastructure.
Parts of the region are more highly exposed to climate change than many parts of the State.
Skills gaps, lower levels of educational attainment as well as an ageing population
The RDV information portal has more detailed data and statistics on the Loddon Mallee Region and regional Victoria more broadly.
Loddon Mallee Regional Growth Plans
The Loddon Mallee North (Mallee) Regional Growth Plan and Loddon Mallee South (Loddon Campaspe) Regional Growth Plan are two of eight regional growth plans being prepared across Victoria. It provides a broad direction for regional land use and development as well as high level planning frameworks and the means to implement the strategic land use and infrastructure directions that are set out in the Regional Strategic Plans.