The Gippsland Regional Partnership is one of nine Partnerships across the state, established by the Victorian Government, recognising that local communities are in the best position to understand the challenges and opportunities faced by their region.
With a Gross Regional Product of $17 billion, Gippsland is one of the most diverse regions in Australia. From unspoilt beaches to snowfields and rainforests, our 41,000 square kilometre region covers a vast range of stunning landscapes including the internationally renowned Wilson's Promontory National Park and one of Australia's best-known tourism experiences, the Phillip Island Penguin Parade.
Natural resources, leading to energy generation, agriculture, forestry and tourism, as well as manufacturing have traditionally underpinned Gippsland's growth. The area is a major electricity and natural gas producer for Victoria, but a global shift towards a low-carbon economy has created challenges for the energy sector and the region's economy.
Our region includes six municipalities (Bass Coast Shire, Baw Baw Shire, East Gippsland Shire, Latrobe City, South Gippsland Shire, Wellington Shire) and a population of approximately 299,600.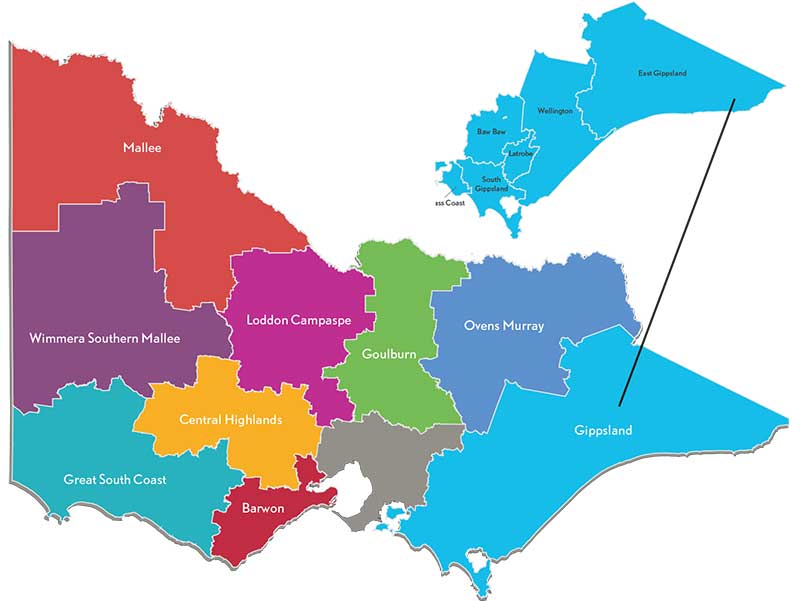 Established in 2016, Victoria's second term Regional Partnership committees were appointed at the beginning of 2021.
Regional Partnerships are made up of community and business leaders, senior local and state government officers, and Regional Development Australia committee members.
The value of Regional Partnerships was demonstrated clearly in 2020 as the Victorian Government responded to the impacts of the coronavirus (COVID-19) pandemic.
Insights and evidence from the Regional Partnership's roundtables held last year assisted the government to understand the impacts of the coronavirus (COVID-19) pandemic on communities and how to seize the opportunities to recover strongly and sustainably.
Our Partnership comprises business and community members from across Gippsland who care passionately about the future of our region.
Gippsland Regional Partnership – At a glance, a snapshot of what we've been up to (PDF 4046.34 KB)