Our Region and Our Partnership
The Gippsland Regional Partnership is one of nine Partnerships across the state, established by the Victorian Government, recognising that local communities are in the best position to understand the challenges and opportunities faced by their region.
With a Gross Regional Product of $15.8 billion, Gippsland is one of the most diverse regions in Australia, and covers 33,000 square kilometres.
From unspoilt beaches to snowfields and rainforests, our region covers a vast range of stunning landscapes including the internationally renowned Wilson's Promontory National Park and one of Australia's best-known tourism experiences, the Phillip Island Penguin Parade.
Natural resources, leading to energy generation, agriculture, forestry and tourism, as well as manufacturing have traditionally underpinned Gippsland's growth. The area produces around 90 per cent of Victoria's electricity and 97 per cent of the state's natural gas, but a global shift towards a low-carbon economy has created challenges for the energy sector and the region's economy.
Our region includes: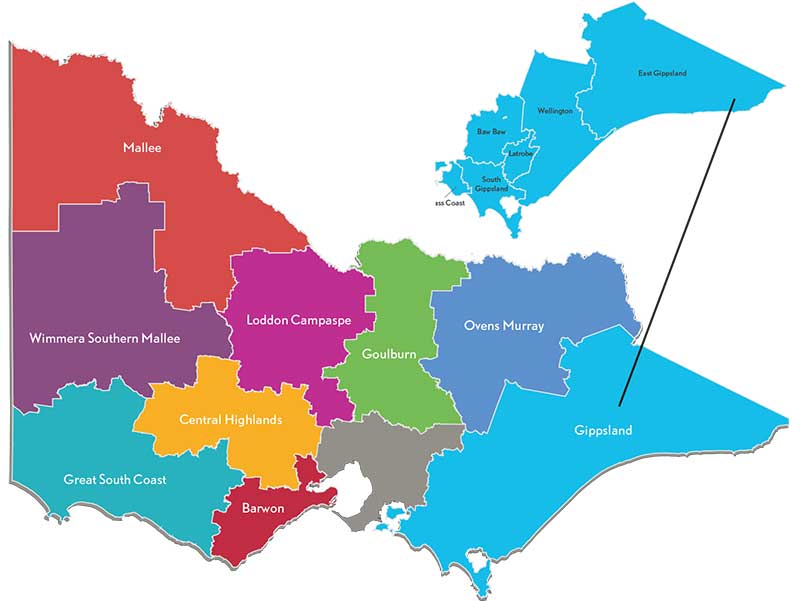 Since our establishment in 2016, the Gippsland Regional Partnership has been active consulting and engaging with thousands of people living and working in our community, including through annual Regional Assemblies.
As a result of our consultations and what we hear, we present annually on our region's priorities to the Victorian Government's Rural and Regional Ministerial Committee and have had a number of these priorities supported by Government in successive Budgets.
As a result, we have seen a number of Partnership-championed projects get off the ground.
However, the Partnership is about more than winning funding at Budget time.
We have been active in bringing different groups and different levels and parts of Government together in our region, in getting people talking and listening, and in providing Governments with insight into how we can better design policy so it fits the needs and expectations of our communities.