A key logistics hub with a diverse industry base connecting western Victoria with international markets
| | |
| --- | --- |
| Local Government Area (LGA) | City of Greater Geelong |
| Neighbouring Local Government Areas | Wyndham, Queenscliff, Surf Coast, Golden Plains, Moorabool |
| LGA Population, 2020 | 264,90 |
| Estimated Population, 2036 | 360,200 |
| Population Growth between 2015-2020 | 2.6% per annum |
| Forecast Population Growth | 2.1% per annum from 2016 to 2036 |
| Output | $14.8 billion Gross Regional Product |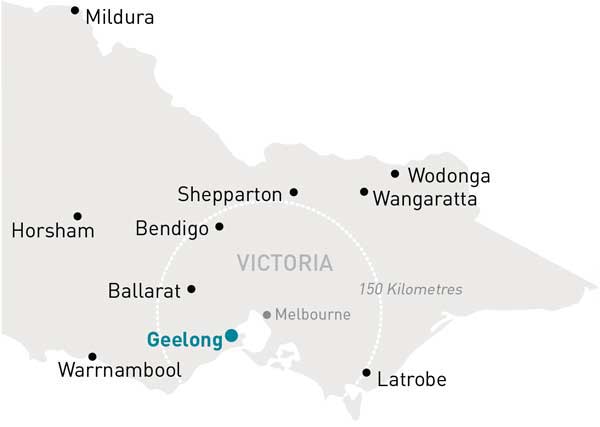 Geelong is ideally located on Port Philip Bay and at the gateway to the famous Great Ocean Road.
Situated only 75km southwest of Melbourne and as the most populous city in regional Victoria, Geelong offers a range of economic and lifestyle opportunities.
Geelong is a major service and industrial manufacturing centre for the Barwon South West Region. Geelong is well connected to Melbourne and regional Victoria via road and rail and nationally and internationally through the Port of Geelong and Avalon Airport.
The Greater Geelong Council is currently working on the Armstrong Creek urban growth area, which is being developed into a sustainable community that will offer new residents an attractive location for living, working and recreation.
Geelong is part of the G21 Geelong Regional Alliance, which comprises five neighbouring municipalities committed to providing a coordinated approach to delivering strategic projects that benefit the livelihood and economy of the region.
Culture and lifestyle
Geelong has all the benefits of a capital city but with a relaxed atmosphere. The city boasts a beautiful waterfront precinct, gentle bay and surf beaches and sophisticated dining and entertainment options. There is a lively calendar of events in the region, including Pako Festa and the International Airshow.
The Bellarine Peninsula has been building a reputation as a food and wine destination and the Bellarine Taste Trail brings together many of the gourmet offerings of the region including wineries, restaurants and cafes, producers of beer, fresh produce, goats cheese, olive oil and seafood.
Employment, industry and infrastructure
Geelong has about 19,569 businesses and a workforce of around 118,765.
Health Care and Social Assistance is the primary employment industry in Greater Geelong, followed by Construction, Retail Trade and Education and Training. In the five-year period 2015-2020, there was strong employment growth in Construction, Health Care and Social Assistance, Public Administration and Safety, Retail Trade, and Professional, Scientific and Technical Services.
In terms of Gross Value Added activity, Health Care and Social Assistance is the largest performing sector in Greater Geelong (C), generating $1.59 billion in 2020. Construction, Manufacturing and Education and Training are also key industry sectors.
Geelong Port is the state's second-largest port and an accessible alternative to the Port of Melbourne. It handles over $7 billion worth of exports and imports annually.
Major Businesses
Industry
Target Australia (HQ)
Department store retailing
Cotton On (HQ)
Clothing retailing
Transport Accident Commission
Public administration and safety
Viva Energy Australia
Petroleum refinery
Avalon Airport
Tourism, transport and warehousing
Barwon Health
Health care and social assistance
Deakin University
Gordon Institute of TAFE
Tertiary education
Godfrey Hirst
Textile manufacturing
MC Herd
Meat product manufacturing (Abattoir)
Epworth Private Hospital development
Health care
Ford Motor Company
Motor vehicle design and engineering
National Disability Insurance Agency
Public administration
Australian Bureau of Statistics
Public administration
Workcover Authority
Public Administration

The RDV information portal has more detailed data and statistics on the Greater Geelong region and regional Victoria more broadly.