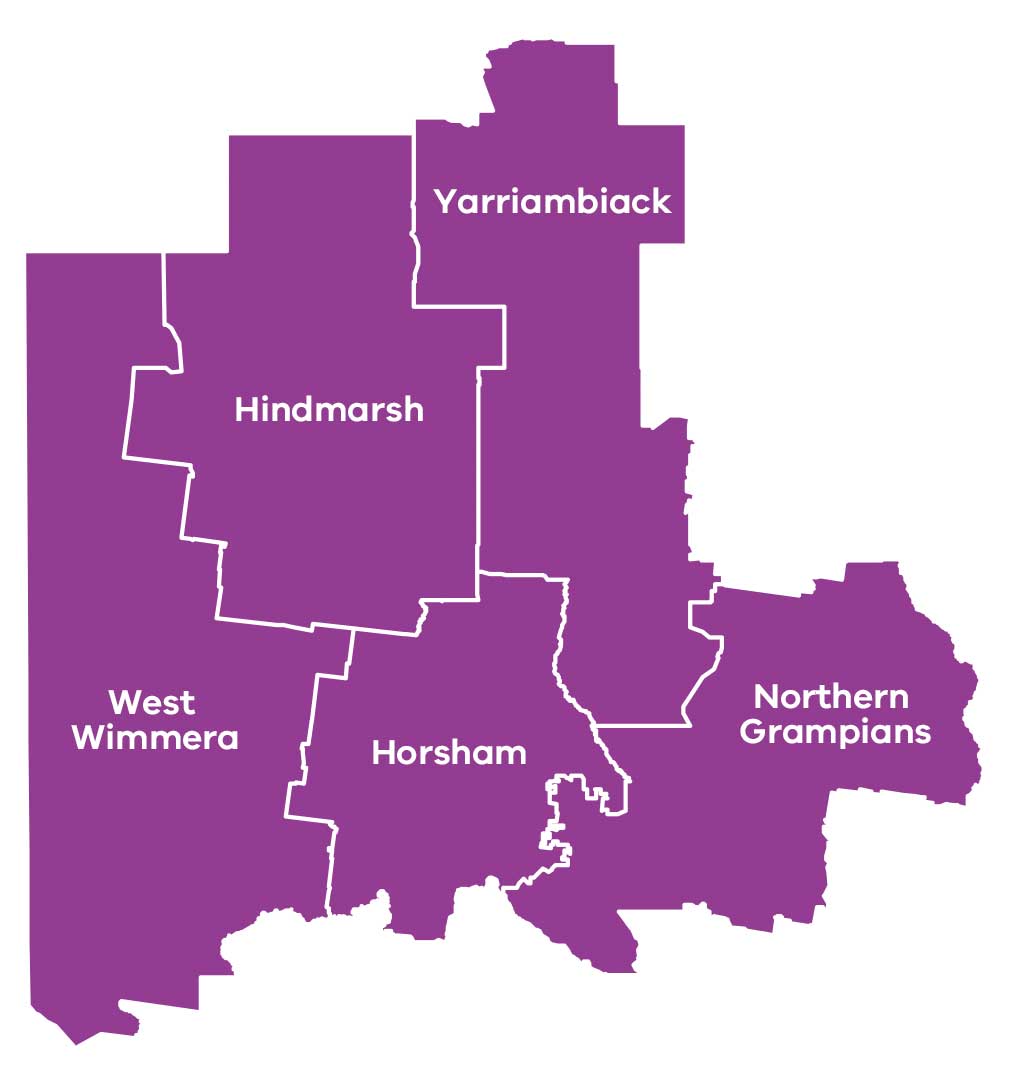 With its rich farming heritage, the Wimmera Southern Mallee has community at its heart. The region has a proud history on the land and looking forward to making the most of new opportunities in renewable energy, tourism and logistics. Not to forget the services such a comprehensive industry base needs, from banking, finance, legal, retail, and machinery sales and servicing to healthcare, education, agronomics, and grains research and development. All this, enriched by a vibrant culture and spectacular landscapes that offer all sorts of recreational activities.
Municipalities
The Wimmera Southern Mallee region involves five municipalities in western Victoria: Hindmarsh, Horsham, Northern Grampians, West Wimmera and Yarriambiack.
Economy
Historically supported by broadacre agriculture with many small, rural communities surrounding the major regional centre of Horsham
Expansion of high-value production, and potential for new enterprises arising from the Wimmera-Mallee Pipeline, are becoming increasingly important to the regional economy.
Opportunities
Developing the minerals sands industry in the Murray Basin.
Track record of collaboration and partnership to deliver major initiatives including the Wimmera-Mallee Pipeline, and a study into large-scale solar prospects for the region
Leveraging new investment from increased water security in the region as a result of the Wimmera Mallee Pipeline
Expanding the investment in renewable energy sectors and small towns
Developing new nature-based and Indigenous tourism products in and around the Grampians National Park.
Challenges
Horsham has experienced steady growth in recent years, but an overall ageing of the population, and population decrease within the region, has prompted investigation into new measures to stabilise and/or grow populations, particularly in smaller communities.
The impact of climate change on agricultural production, water supply and security present challenges to regional communities and industries.
The region recognises it can no longer rely almost exclusively on its agricultural economic base and is seeking to diversify industry, attract new investment and develop new industries through education, infrastructure and broadband connectivity.
Wimmera Southern Mallee Regional Growth Plan
The Wimmera Southern Mallee Regional Growth Plan is one of eight regional growth plans across Victoria. It provides a broad direction for regional land use and development as well as high level planning frameworks and the means to implement the strategic land use and infrastructure directions that are set out in the Regional Strategic Plans.
More details are available on the Wimmera Southern Mallee's Regional Growth Plan page
Wimmera Southern Mallee Regional Strategic Plan
Following is the Wimmera Southern Mallee Regional plan as presented to the Victorian Government: