A hub for manufacturing and textile innovation at the base of the alpine region and on the Melbourne Sydney transport corridor
| | |
| --- | --- |
| Local Government Area (LGA) | Rural City of Wangaratta |
| Neighbouring Local Government Areas | Alpine, Benalla, Indigo, Mansfield, Moira, Wellington |
| LGA Population, 2020 | 29,200 |
| Estimated Population, 2036 | 32,200 |
| Population Growth between 2015-2020 | 0.7% per annum |
| Forecast Population Growth | 0.6% per annum from 2016 to 2036 |
| Output | $1.4 billion Gross Regional Product |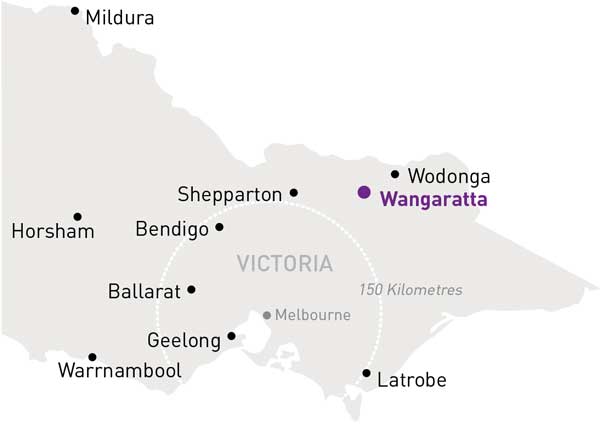 Wangaratta is a key regional city located on the Ovens River in North East Victoria. Part of the Ovens Murray region, the municipality encompasses the Alpine Valleys of the King and lower Ovens Rivers and is a gateway to the Victorian high country and alpine regions.
Situated on the Hume Freeway, and the Melbourne to Sydney rail line, Wangaratta is a regional centre that services the surrounding agricultural area and provides strong recreational, commercial, educational, tourism and health facilities.
Wangaratta and the surrounding area are a popular food and wine destination.
Culture and lifestyle
Wangaratta is surrounded by rich agricultural land, which produces high quality produce and world-class wines. Mount Hotham, Falls Creek and Mount Buffalo are all in close proximity offering excellent skiing in winter and bush walking, fishing, cycling or four wheel driving in summer.
Wangaratta is Australia's home of jazz with the 'Wangaratta Festival of Jazz' held annually. Since its inception in 1990, the festival has grown to include 90 events and over 350 national and international artists performing each year. The Wangaratta Festival of Jazz also hosts the National Jazz Awards, Youth Jazz Workshops, master classes and events throughout Wangaratta and surrounding regions.
Employment, industry and infrastructure
Wangaratta has around 3,141 businesses and a workforce of approximately 13,540 people.
Health Care and Social Assistance is the primary employment industry in Wangaratta (RC), followed by Agriculture, Forestry and Fishing, Manufacturing, Retail Trade and Construction. In the five-year period 2015-2020, there was strong employment growth in Construction and Agriculture, Forestry and Fishing.
In terms of Gross Value Added activity, Health Care and Social Assistance is the largest performing sector in Wangaratta, generating $203 million in 2020. Manufacturing, Construction and Education and Training are also key industry sectors.
The city relies heavily on imports of professional services and equipment to support the manufacturing sector.
Due to Wangaratta's location, its tourism sector is growing with increased visitation rates and levels of trade. Public administration and safety, accommodation and food services and health care and social assistance are also key industry sectors.
Wangaratta is strategically located on the Hume Corridor between Melbourne and Sydney. It is one of the main gateways between Victoria and New South Wales and a key access point to north eastern and central Victoria.
Wangaratta is on the state rail network with both V/Line passenger and freight services connecting the city to Melbourne and Sydney. The Wangaratta Aerodrome is used for emergency, charter and flight training services.
Major Businesses
Industry
Australian Country Spinners
Bruck Textiles
Textile manufacturing
Brown Brothers
Beverage manufacturing
Tyco Water P/L
Fabricated metal products manufacturing
Alpine Truss,
Alpine MDF
Wood product manufacturing
Burder Group
Transport equipment manufacturing
Canny Carrying Co
Transport services
North East Health
St. Johns Village Inc.
Health care and social assistance
GOTAFE
Tertiary Education
Mackay Casings
Food product manufacturing

The RDV information portal page has more detailed data and statistics on the Wangaratta region and regional Victoria more broadly.