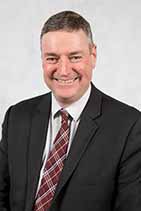 Mr Luke Wilson commenced as Victoria's Cross Border Commissioner in October 2018.
Luke previously led the Agriculture, Resources, Energy and Corporate Services portfolios in Victoria's then Department of Economic Development, Jobs, Transport and Resources, covering the biosecurity, fisheries, game, animal welfare and mining regulators, as well as research, policy and service delivery .
Luke has headed similar teams in the former Department of Primary Industries and the Department of Environment and Primary Industries.
In each of these roles, Luke has led policy development on many of the key issues facing Victoria's rural and regional industries, including productivity growth, land use planning, drought, urban water, social licence and other drivers of value and adjustment.
Luke has previously worked as an energy and transport access regulator in South Australia, in economic consulting with PricewaterhouseCoopers and in policy analysis with the Australian Government.
He was originally a forester in Myrtleford, Victoria, as well as in Alabama, USA and Nova Scotia, Canada.
Luke holds a Bachelor of Forest Science from the University of Melbourne, a Graduate Diploma in Economics from La Trobe University and a Graduate Diploma in Management from the Australian Catholic University.