RDA Gippsland is a committee of local business and community leaders who work together to strengthen the Gippsland economy and local communities.
The region continues to be one of Victoria's fastest growing and is forecast to grow to over 346,000 by 2036.
RDA Gippsland works with all levels of business, industry, government and community organisations to harness diversity and create an economically confident Gippsland into the future.

Who We Are
Established in 2010, RDA Gippsland supports regional initiatives to drive economic development, accelerate capabilities and leverage sector strengths.
RDA Gippsland is committed to advocating for projects, initiatives and industries that prioritise economic prosperity across the region.
Backed by both the State and Federal Governments, RDA Gippsland is supported by Regional Development Victoria - the Victorian Government's lead agency responsible for rural and regional economic development.
Leveraging their unique position, RDA Gippsland acts as a conduit between the region, local business and all levels of government to identify gaps where they exist and ensure investment aligns with regional priorities.

What We Do
Working across local, state and federal government, RDA Gippsland collaborates with business, not-for-profits and advocacy groups to foster valuable partnerships that can respond to regional challenges and create opportunities for growth.
With a long-term view, RDA Gippsland is dedicated to identifying and prioritising key regional level infrastructure that will be required to support economic development, job creation and growth.

Who We Work With
The RDA Gippsland committee understands the regional needs of Gippsland, which encompasses six local government areas including Bass Coast Shire, Baw Baw Shire, East Gippsland Shire, Latrobe City, South Gippsland and Wellington Shire.
One of six committees that operate within Victoria, RDA Gippsland borders RDA Hume and RDA Melbourne, along with RDA South Coast and RDA Southern Inland in New South Wales.
Collaborating with these neighbouring borders, throughout Victoria's RDA committees and One Gippsland, RDA Gippsland is committed to identifying synergistic opportunities to leverage regional effort and boost economic activity.

Our Region
Fast Facts
2.03 billion litres of milk produced in Gippsland per year
97 per cent of Victoria's natural gas comes from Gippsland
85 per cent of Victoria's electricity is produced in Gippsland
1.32 per cent average population growth between 2008 - 2018 in Gippsland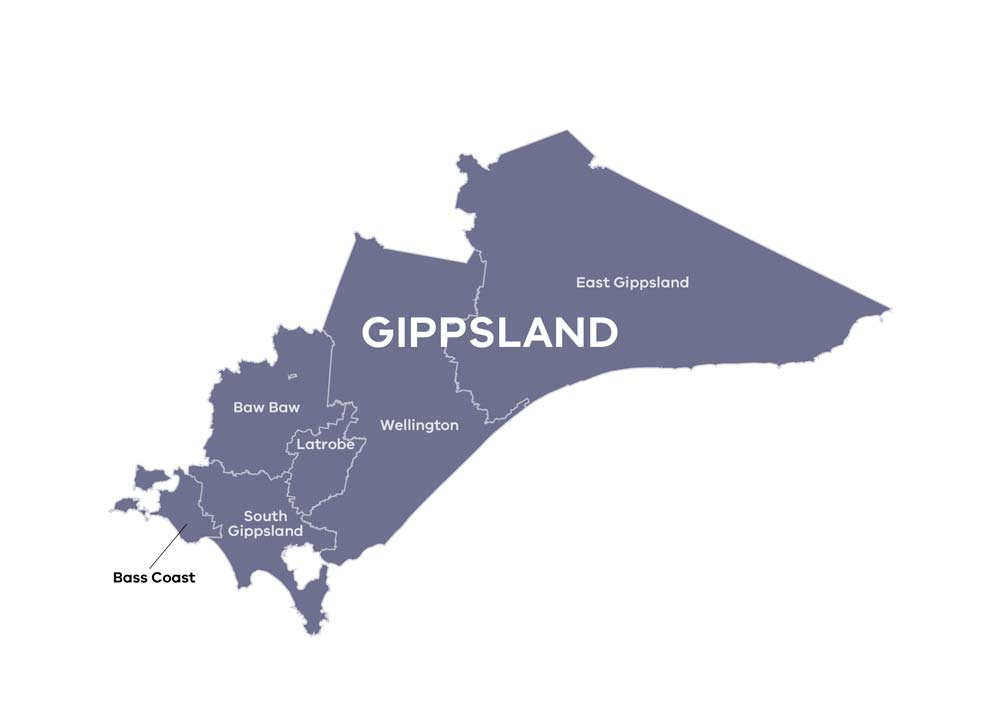 Gippsland is home to approximately 283,000 people and stretches across the south-eastern corner of the state. Its footprint is so vast it can take five hours to drive the 412 kilometres from north to south and six hours to drive the 495 kilometres from east to west.
The region continues to be one of Victoria's fastest growing municipalities and is forecast to grow to over 346,000 by 2036.
With diverse landscapes, Gippsland is home to spectacular regional attractions including the Gippsland Lakes, Wilson's Promontory and the Penguin Parade at the Phillip Island Nature Park. Other icons in the region include Mount Baw Baw, Tarra Bulga, Croajingolong and Morwell National Park.
As a major food producer and food manufacturer specialising in dairy and vegetable processing, Gippsland farms account for at least one quarter of Victoria's milk, vegetable and beef production with a number of Gippsland's businesses exporting food across the world.