RDA Grampians is a committee of local leaders that work together to support economic development in the Grampians region.
RDA Grampians' vision is to promote the economic development of Victoria's west and position the Grampians region as the place to work, live and do business. Attracting government investment and leveraging regional effort and expertise is critical to achieving this vision.

Who We Are
Established in 2010, RDA Grampians supports regional initiatives that drive economic development, accelerate capabilities and leverage sector strengths.
RDA Grampians understands the regional needs of the Grampians, which spans across the local government areas of West Wimmera, Hindmarsh, Yarriambiack, Horsham, Northern Grampians, Ararat, Pyrenees, Ballarat, Golden Plains, Hepburn and Moorabool.
In Victoria, RDA's are backed by State Government and supported by Regional Development Victoria - the Victorian Government's lead agency responsible for rural and regional economic development.
Leveraging their unique position, RDA Grampians is an independent voice for the Grampians region with an integrated approach that promotes industry and government collaboration.
---
RDA Grampians Chair, Stuart Benjamin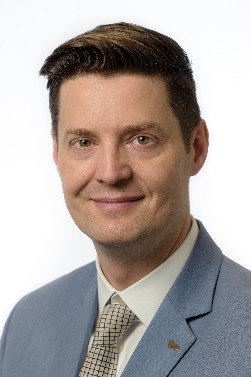 Stuart Benjamin is the Chair of RDA Grampians and has been leading the committee since 2012.
A strong advocate for the region, Stuart has almost 15 years' experience across multiple business sectors and is the Director of the Elmstone Property Group - a multi-faceted land and construction group operating across Western Victoria – as well as the Director of Aviation Accommodation Australia.
Stuart is also the Chair of the Grampians New Energy Taskforce (GNeT) – working across the region to lead new approaches and practices to drive a low-carbon economy in Victoria.
Prior to these roles, Stuart was the Chair of the Australian domain name regulator auDA, founding Chair of Ballarat Regional Tourism Board and previously held a board position at Enterprising Committees (trading as VERB), a not-for-profit with a focus on strengthening the connections between communities.
Born and raised in regional Victoria, Stuart studied and worked around the globe before settling in Ballarat in 2000 where he now lives with his four children.
Qualifications:
Bachelor of Commerce, specialising in New Ventures, Innovation and Marketing
Graduate Certificate in International Business
Certificate IV Building and Construction
Various domestic AICD Courses and international specialist programs
Areas of expertise:
Building, Construction and Contract Management
Public Administration & Regulation
Community engagement and Stakeholder Management
Business Improvement Systems
Corporate Governance Public
Economic & Investment Analysis
Renewable energy
Small business
Leadership
Affordable Housing and accommodation
Regional planning and development
Industries:
Local government
State and federal government
Not-for-profit
Building services and Commercial property
Renewable energy
Manufacturing
Stuart Benjamin's LinkedIn profile

What We Do
Working across local, state and federal government, the RDA Grampians Committee works on the ground to respond to regional challenges and create solutions that lead to jobs and greater investment in the region.

Who We Work With
RDA Grampians is one of six committees that operate within Victoria and borders RDA Barwon South West and RDA Loddon Mallee in Victoria and RDA Limestone Coast in South Australia. RDA Grampians works across these neighbouring borders and throughout Victoria's RDA regions to identify synergistic opportunities to leverage regional effort and boost economic activity.
As an important voice of the region, RDA Grampians collaborate with like-minded initiatives including the Central Highlands and Wimmera Southern Mallee Regional Partnerships.

Our Region
Fast Facts
101,592 jobs in Grampians region
22,010 businesses in Grampians region
$10.7 million Gross Regional Production for the Grampians region
48,627 square kilometres Grampians region footprint, which is bigger than the area of Switzerland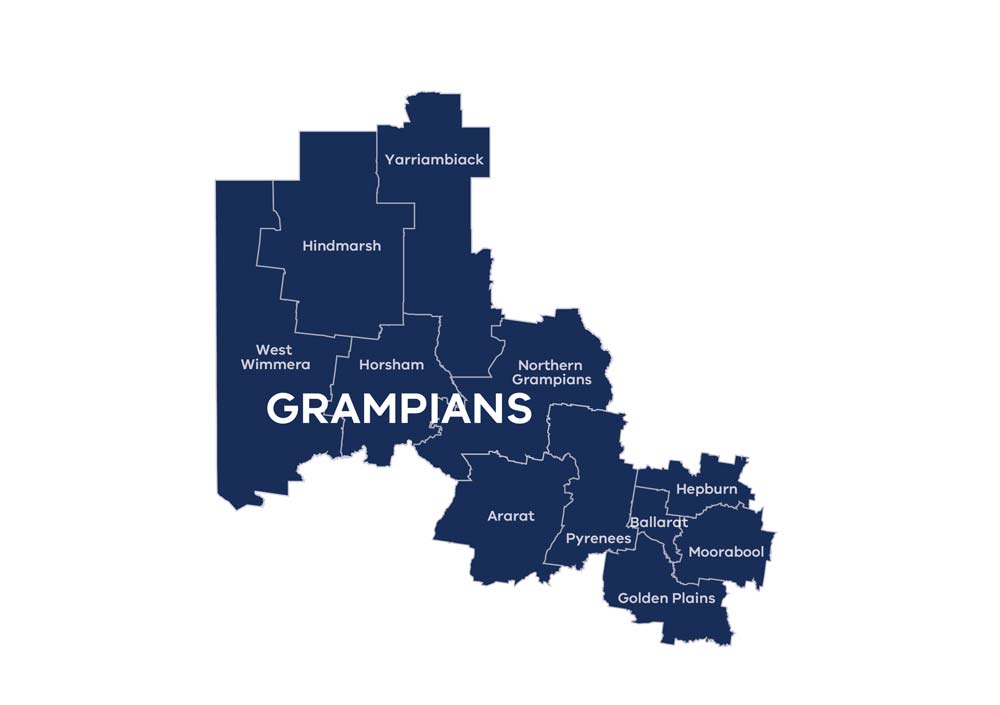 Stretching from the western edge of Melbourne to the South Australian border, the Grampians region includes the major townships of Edenhope, Nhill, Warracknabeal, Horsham, Stawell, Ararat, Beaufort, Ballarat, Bannockburn, Daylesford and Bacchus Marsh.
The region is steeped in history from the gold rush and is home to Sovereign Hill and the Silo Arts Trail as well as natural attractions including the Grampians National Park, Mt Arapiles and the Little Desert National Park.
Agriculture and food production are major industries across the Grampians, with extensive dryland farming areas across the region - particularly in the Wimmera Southern Mallee sub-region.
Opportunities across the region include artisanal food and beverage production, broad acre production, intensive agriculture, protected cropping, commercial cropping and diversified agriculture.
In the Central Highlands and Wimmera South Mallee region, particularly Ballarat and Horsham, the services sector is experiencing significant steady growth across areas such as health, education, professional services, ICT and hospitality.