Regional Development Victoria (RDV) is the Victorian Government's lead agency responsible for rural and regional economic development.
RDV operates in partnership with regional businesses and communities, and all tiers of government to deliver the Government's regional development agenda and instigate positive change for regional and rural Victorians.
Our work includes enabling businesses to invest to consolidate and grow jobs, strengthen regional economies and enrich the social fabric of Victoria's regional cities and towns.
RDV provides this support through a series of funding mechanisms, most notably the Government's Regional Jobs and Infrastructure Fund that is designed to deliver important place-based planning and infrastructure investment around the state.
Our work aligns closely with State Budget initiatives that include implementing better transport and digital connectivity, more affordable housing, comprehensive health, education and community infrastructure throughout rural and regional Victoria.
RDV helps facilitate such targeted outcomes via nine Regional Partnerships that are made up of local representatives from industry, government and the community. Our role with each partnership involves building consensus around regional priorities, assembling cases for action and investment, and supporting engagement to ensure local priorities are shared directly with government.
RDV is also instrumental in helping regional Victorians manage life-changing events, from industry transition to natural disasters such as bushfires and floods.
Regional Victoria is vital to the state
Our regions are home to one in four Victorians, and account for over 850,000 jobs. Nearly 40% of businesses in regional Victoria are small businesses (1-20 employees).
Together they generate $97 billion in economic output, contributing almost 20% of the state's overall economic output and are responsible for over a quarter of Victoria's total international exports.
Total domestic spend in regional Victoria (including day trips and overnight) reached $16.4 billion, 57% above the pre-pandemic spend in the year ending March 2019, and 66% above the year ending March 2022.
Victoria exports 73% of Australia's dairy exports, 46% of horticultural exports and 36% of prepared food exports.
RDV's place in the Victorian Government
Created in 2003, RDV is a statutory agency within the Department of Jobs, Skills, Industry and Regions. In accordance with the Regional Development Victoria Act 2002, RDV works closely with various Victorian Government agencies to facilitate economic, infrastructure and community development throughout regional Victoria. By agreement with the Australian Government, RDV supports Regional Development Australia committees and their activities within Victoria.
RDV helps facilitate key Victorian Government funding to:
provide better infrastructure, facilities and services
strengthen the economic and social base of communities
create jobs and improve career opportunities for regional Victorians
support local project development and planning.
RDV locations
RDV offices are based throughout regional Victoria. You can access RDV staff and services at Victorian Government Business Centres across the state. For a full list of locations and contact details, visit the Contacts and Assistance page.
---
RDV Executive Team
Beth Jones
Chief Executive, Regional Development Victoria and Deputy Secretary, Rural and Regional Victoria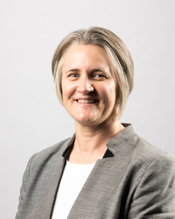 Based in Ballarat where she lives, Beth is the first female CEO of Regional Development Victoria (RDV). Beth brings a wealth of leadership experience to the role, most recently as Executive Director Biosecurity and Agriculture Services at Agriculture Victoria where she led the delivery of key initiatives to grow and protect Victoria's agricultural sector. With 21 years' experience in the public sector, Beth has expertise in program delivery, regulatory reform, industry and community engagement, policy development and emergency management. In addition to her role as CEO, Beth is Deputy Secretary for the Rural and Regional Victoria (RRV) group within the Department of Jobs, Skills, Industry and Regions. Beth was recognised in the Top 50 Public Sector Women in 2018 and holds an Honours degree in Applied Science and a Masters of Business Administration. She is a graduate of the Australian Rural Leadership Program and the Australian Institute of Company Directors.
Anthony Schinck
Executive Director, Regions
Matt Nelson
Regional Director, Hume
Leanne Rosewall
Regional Director, Loddon Mallee
Brett Ince
Regional Director, Barwon South West
Sara Rhodes-Ward
Regional Director, Gippsland
Sarah Henderson
Regional Director, Grampians
Rob Byrne
Director, Programs Recovery and Investment
Jeremy Levine
Executive Director, Regional Policy and Strategy