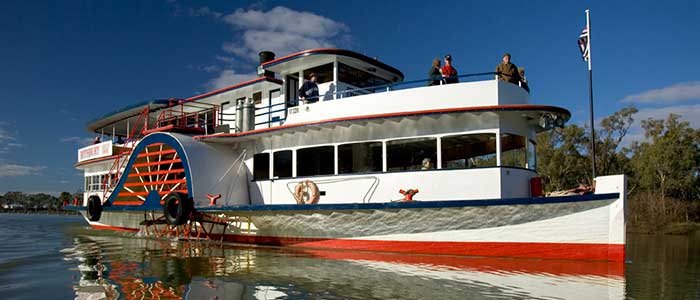 A producer of quality Victorian food and agriculture and a strategically important regional service centre for North West Victoria, South Australia and New South Wales
| | |
| --- | --- |
| Local Government Area (LGA) | Rural City of Mildura |
| Neighbouring Local Government Areas | Swan Hill, Buloke, Yarriambiack, Hindmarsh, West Wimmera |
| LGA Population, 2020 | 55,900 |
| Estimated Population, 2036 | 62,600 |
| Population Growth between 2015-2020 | 0.7% per annum |
| Forecast Population Growth | 0.7% per annum from 2016 to 2036 |
| Output | $2.8 billion Gross Regional Product |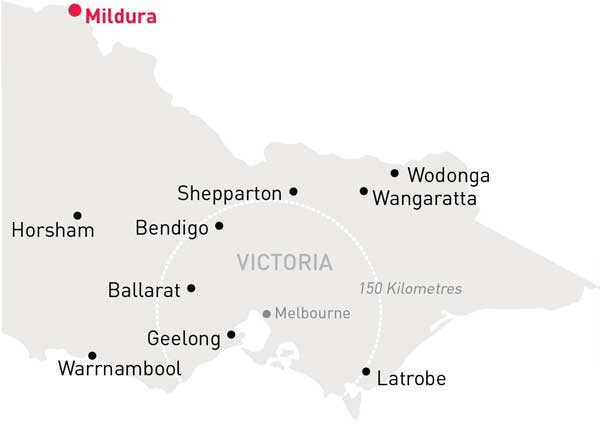 Mildura is an oasis on the Murray River in northwest Victoria. Located on the border of New South Wales and South Australia, the Mildura region is 550km northwest of Melbourne and 400km northeast of Adelaide.
Part of the Mallee region, Mildura is the largest city in northwest Victoria and strategically vital to what is an important agricultural area.
The city is a significant service centre for northwest Victoria as well as parts of South Australia and New South Wales, delivering transport and warehousing services, professional services, health services and tertiary education. Mildura produces premium agricultural and aquaculture products for domestic and international markets.
Food and beverage manufacturing are among Mildura's major exports as the region's arid climate creates the perfect conditions for citrus and grape growing.
Culture and lifestyle
Life in Mildura revolves around the Murray River, with fishing, water sports, the white sandy beaches found along the river and the desert environment of Mildura-Sunset National Park.
Mildura also has a strong arts culture with the Art Gallery built in 1966 on a historic property adjacent to the Murray River. The Centre includes a 384-seat theatre, the Mildura Art Gallery and the original Caffey House. The theatre is also hired out to commercial and amateur theatre, school productions and used for workshops, private functions and classes.
Mildura is a renowned food and wine region drawing on premium local inputs. Australian celebrity chef Stefano di Pieri proudly promotes his hometown's food and beverages, which owes much of this food culture to post-WWII Italian and Greek migrants.
Employment, industry and infrastructure
Mildura has around 5,362 businesses in the city and a workforce of approximately 24,465 people.
Health Care and Social Assistance is the primary employment industry in Mildura, followed by Agriculture, Forestry and Fishing, Retail Trade and Construction. In the five-year period 2015-2020, there was strong employment growth in Construction, Health Care and Social Assistance, Public Administration and Safety and Manufacturing.
In terms of Gross Value Added activity, Agriculture, Forestry and Fishing is the largest performing sector in Mildura, generating $370 million in 2020. Health Care and Social Assistance, Public Administration and Construction are also key industry sectors.
Mildura connects Victoria, South Australia and New South Wales by road, rail and air.
The Mildura Airport is strategically vital to the Sunraysia region. It is the busiest regional airport in Victoria for passenger services with the number of passengers doubling over the last decade.
A $6.4 million Terminal Redevelopment Project completed in 2013 was a strategic consideration to accommodate the existing and future needs of passengers over the next 10 to 15 years.
Major Businesses
Industry
Titan Wheels Australia
Transport equipment manufacturing (wheels)
Wakefield's Ironhorse Intermodal Transport Company,
GTS Freight Management
Transport and warehousing
Mildura Fruit Company
Sunbeam Foods
Australian Premium Dried Fruits
Fruit and tree nut growing and processing
Australian Vintage
Lindemans (Karadoc)
Beverage manufacturing (wines)
SunSalt
Food Manufacturing (salt)
Iluka Resources,
Bemax Resources (Cristal)
Mining (mineral sands)
Mildura Base Hospital
Health care and social assistance
La Trobe University
SuniTAFE
Tertiary education

The RDV information portal has more detailed data and statistics on the Mildura region and regional Victoria more broadly.