An important city in 'Australia's Food Bowl' with strong fruit and dairy industries
| | |
| --- | --- |
| Local Government Area (LGA) | Greater Shepparton City Council |
| Neighbouring Local Government Areas | Benalla, Campaspe, Moira, Strathbogie |
| LGA Population, 2020 | 67,100 |
| Estimated Population, 2036 | 77,700 |
| Population Growth between 2015-2020 | 0.8% per annum |
| Forecast Population Growth | 0.9% per annum from 2016 to 2036 |
| Output | $3.7 billion Gross Regional Product |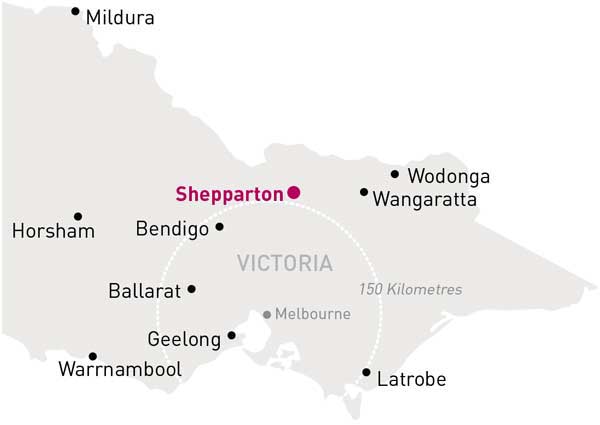 Greater Shepparton is at the heart of the 'food bowl of Australia', producing high quality fruit and vegetables and agricultural goods. Situated on the banks of the Goulburn River, Shepparton has the ideal climate and environment for food production. The city has a diverse and vibrant community contributing to a very strong economy and cultural scene.
Part of the Goulburn region, Greater Shepparton is the fifth-largest city in regional Victoria in terms of population encompassing three main urban centres: Shepparton City, Mooroopna and Tatura. Three-quarters of the municipality's population live in Shepparton and Mooroopna.
Shepparton is located approximately 180km north of Melbourne positioning the city as a major service centre for the Goulburn Valley and southern riverine area of New South Wales.
Culture and lifestyle
Shepparton is synonymous with great food, wine, waterways and weather. The region offers a variety of lifestyles, with urban centres and country towns all within a half hour drive of the CBD.
The region has an international reputation for quality fruit and dairy products, and is also home to some of Victoria's oldest and best wineries.
The Eastbank Centre in Shepparton is a magnificent concert hall and function complex, and is also home to the Shepparton Art Museum, which hosts local and touring exhibitions.
Employment, industry and infrastructure
Greater Shepparton has about 6,525 businesses and a workforce of approximately 33,420 people.
Health Care and Social Assistance is the primary employment industry in Greater Shepparton, followed by Retail Trade, Agriculture, Forestry and Fishing and Manufacturing. In the five-year period 2015-2020, there was strong employment growth in Construction, Health Care and Social Assistance, Manufacturing, and Agriculture, Forestry and Fishing.
In terms of Gross Value Added activity, Health Care and Social Assistance is the largest performing sector in Greater Shepparton, generating $434 million in 2020. Manufacturing, Electricity, Gas, Water and Waste Services, Agriculture, Forestry and Fishing and Construction are also key industry sectors.
Shepparton is situated at the junction of the Goulburn Valley and Midland Highways, along the Newell Highway corridor that provides links to Melbourne and Brisbane. It is on the state rail network with both V/Line passenger and freight services.
Major Businesses
Industry
Rubicon Water
Machinery and equipment manufacturing (water management and irrigation)
J. Furphy & Sons
Fabricated metal product manufacturing
SPC Ardmona,
Unilever Australia Limited,
Campbell Australia P/L and
Tatura Abattoirs
Food and beverage manufacturing and Meat product manufacturing
Tatura Milk Industries P/L
Dairy product manufacturing
Visy
Packaging
Geoffrey Thompson Fruit Packing Company P/L
Agriculture, warehousing and packing (fruit)
McPherson Media Group
Information Media
Goulburn Valley Water
Goulburn Murray Water
Water supply, sewerage and drainage services
Goulburn Valley Health
Shepparton Villages
Berry Street
Health care and social assistance
La Trobe University
Goulburn Ovens Institute of TAFE
Melbourne University
Tertiary Education
Peter Stoitse Transport Pty Ltd
Transport and Logistics

The RDV information portal page has more detailed data and statistics on the Shepparton region and regional Victoria more broadly.