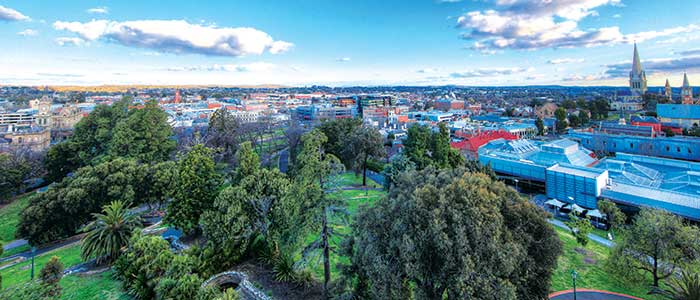 A thriving and productive city with a unique historical connection to China
| | |
| --- | --- |
| Local Government Area (LGA) | City of Greater Bendigo |
| Neighbouring Local Government Areas | Loddon, Campaspe, Mount Alexander, Strathbogie, Mitchell |
| 2014 LGA Population | 106,971 |
| 2031 Estimate Population | 144,751 |
| Population Growth between 2006-2011 | 1.8%, an increase of 1,804 per annum |
| Forecast Population Growth | 1.8% per annum from 2011 to 2031 |
| Output (2014) | $5.05 billion Gross Regional Product |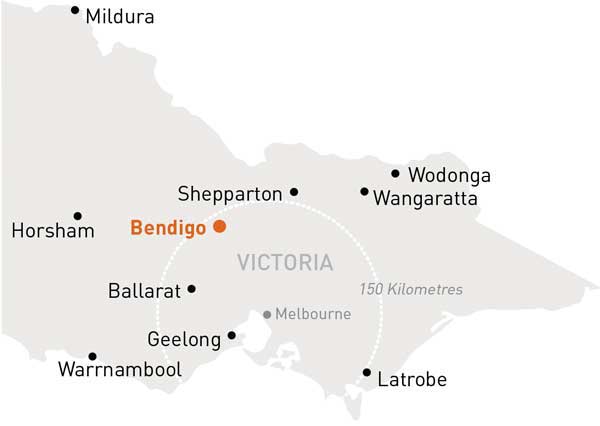 Bendigo is one of regional Victoria's most progressive and contemporary cities and is located in the heart of the Goldfields region. It is the principal service centre for the Loddon Mallee, Loddon Campaspe region and the city's key industries include mining and financial services.
Situated about 150km northwest of Melbourne, it is the third-most populous city in regional Victoria and an important city for the central Victorian economy.
Bendigo is an important tourist city in Victoria, with a trove of gold rush era architecture and numerous cultural festivals, including those celebrating Bendigo's large Chinese community, such as the annual Chinese New Year celebrations.
Bendigo comprises suburban communities based around key transport corridors. Bendigo has established itself as a manufacturing base for primary industries operating in the region. In recent decades, the city has specialised in finance and insurance services, health care and education.
Culture and lifestyle
Bendigo is renowned for its arts and culture. The Bendigo Art Gallery, located in the View Street Arts Precinct, is one of the best and largest galleries in regional Australia. It is home to one of the most outstanding permanent collections of 19th Century European and Australian art in the country and is well known for exclusive international exhibitions.
Next door to the gallery is the Capital Theatre, Bendigo's performing arts centre. Built in the 1870s and converted to its present use in the 1980s, the Capital features local and international theatre, music, comedy and dance acts. A recent addition to Bendigo's cultural facilities is the Ulumbarra Theatre, rising from within the walls of the historic Sandhurst Gaol.
With its two award-winning wine regions, Heathcote and Bendigo, the city is widely regarded for its excellent wine and food culture. Wonderful local food is showcased on the menus of the city's restaurants, bars and cafes that proudly support the region's farmers, suppliers and wineries.
Employment, industry and infrastructure
Bendigo has approximately 7,589 businesses and a workforce of around 42,000 people. In the five-year period 2009-2014, there was strong employment growth in construction; arts and recreation services; transport, postal and warehousing; healthcare and social assistance; professional services and financial and insurance services. Bendigo is also the headquarters for the Bendigo and Adelaide Bank, which is now a top 70 ASX-listed company and employs approximately 1,000 people locally across head office, six branches and two community bank branches.
Other major businesses include Rural Finance Corporation, Hofmann Engineering, Parmalat, Hazeldene's Chickens, Bendigo Health, Latrobe University and Bendigo TAFE.
The city is is connected to Melbourne and other regions by high-quality road and rail infrastructure. As the largest regional centre in the Loddon Mallee region, the city is expected to experience a relatively high growth rate compared to other parts of the region and regional Victoria as a whole.
The Regional Rail Link is designed to remove major bottlenecks in Victoria's rail network by untangling metropolitan and regional tracks as they travel through Melbourne's west. It will lay the foundations for future expansion of the rail network to meet the needs of Victoria's growing population.
Major Businesses
Industry
Bendigo Bank
Banking
Rural Finance Corporation

Financial and insurance services
Thales

Defence
Hofmann Engineering

Primary and fabricated metal product manufacturing
Keech Castings

Primary metal product manufacturing (steel castings)
Parmalat

Dairy product manufacturing
Hazeldene's Chickens

Meat product manufacturing (poultry)
Bendigo Health
Health care and social assistance
La Trobe University,
Bendigo TAFE

Tertiary education
The RDV information portal has more detailed data and statistics on the Bendigo region and regional Victoria more broadly.