Regional Development Australia (RDA) is a partnership between the Australian, state and territory governments to support the growth and development of Australia's regions.
This Australian Government initiative brings together all levels of government, business and community to support the development of regional Australia.
RDA is a national network of 52 Committees established in 2010 by the Australian Government to provide a framework for national economic growth.
Regional Development Australia in Victoria
The Victorian RDA arrangement is jointly funded by both the Australian and State governments.
Victoria's 5 regional RDA committees (Barwon South West, Gippsland, Grampians, Hume and Loddon Mallee) cover all parts of the state and are supported by the state's sixth RDA committee, RDA Melbourne, the gateway to our capital city.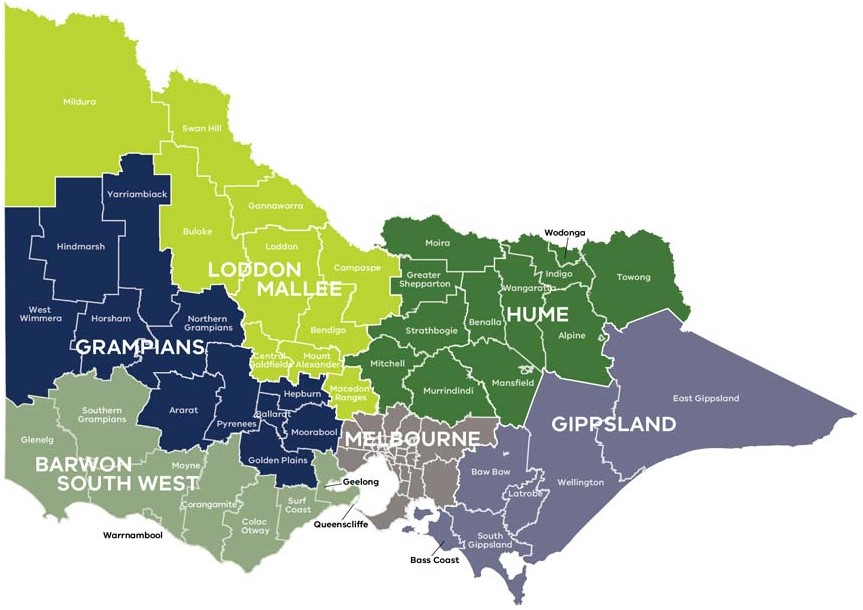 The Victorian RDA model, through its access to an established and comprehensive network of regional stakeholders, is strongly positioned to deliver economic outcomes for regional Victoria.
RDA partnership with Regional Development Victoria
Victoria's RDA committees have the unique advantage of being embedded regionally and are co-located in Regional Development Victoria offices — the state's lead agency responsible for rural and regional economic development.
The 6 RDA Committees and the 9 Victorian Regional Partnerships have a joint focus on driving economic development and therefore collaborate to optimise outcomes.
Victoria's Regional Directors also have the dual role of being the Director of Regional Development for their local RDA committee, ensuring high-level overview and support of RDA's projects.
Victoria's RDA Committees are also supported by Regional Development Victoria's Economic Development, Investment and Trade, Communications and Business Services divisions.
Victoria's RDA committees
Each of Victoria's 6 RDA Committees consist of local leaders with diverse business and public life experience. They have an active role within their communities on growing strong and confident regional economies.
By engaging across agencies, industry bodies and the private sector to create regional alliances, partnerships and networks, our RDA Committees leverage and coordinate regional effort as well as influence state and federal government policy.
They understand the regional challenges, opportunities and priorities and harness both the region's competitive advantages and their deep networks to seize opportunities and advocate private and public sector investment to deliver economic growth.
RDA locations in Victoria