RDA Barwon South West is a committee of local leaders developing local solutions for local issues.
RDA Barwon South West's vision is to prioritise and advocate for regional projects and programs that deliver economic benefits throughout the region.

Who We Are
Established in 2010, RDA Barwon South West have a strong track record of bringing investment to the region, getting infrastructure and community projects off the ground and creating jobs.
Backed by both the State and Federal Governments, the committee is supported by Regional Development Victoria - the Victorian Government's lead agency responsible for rural and regional economic development.
Taking a whole-of-region approach, RDA Barwon South West has a birds-eye view on the challenges and opportunities that exist within the region. The committee are uniquely placed to leverage and coordinate regional effort to influence policy decisions from state and federal government.
This is achieved by engaging and collaborating throughout the region to develop strategies, identify issues and deliver sustainable infrastructure and services to the Barwon South West.
RDA Barwon South West Committee Chair
Bruce Anson
RDA Barwon South West Committee
Elaine Carbines - Deputy Chair
Peter Dorling
Michael King
Darryl Mohr
Brendan Ryan
Andrew Westlake
Grant Sutherland
Liz Price
Anita Rank
Peter Brown
David Spear
Alison McLeod

What We Do
As an important voice for the region, RDA Barwon South West consults and engages with communities, promotes and participates in regional programs and initiatives, provides information and advice on the region to all levels of government and supports informed regional planning.
RDA Barwon South West plays a facilitative role in developing and supporting regional economies to harness their competitive advantages, seize on economic opportunity and attract investment.
This is done in collaboration with stakeholders to identify economic opportunities and leverage private and public-sector investment in the region.

Who We Work With
Bringing together local leaders with local expertise, the RDA Barwon South West committee collaborates with business, not-for-profits, industry bodies and agencies to build sector strengths, promote regional capabilities and leverage regional advantages.
Working in partnership with community, business and all levels of government, RDA Barwon South West supports and contributes to the strategic regional development across the local government areas of Greater Geelong, Queenscliffe, Surf Coast, Colac Otway, Corangamite, Moyne, Warrnambool, Southern Grampians and Glenelg, in south western Victoria.
The committee works in close collaboration with like-minded initiatives including the Geelong Region Alliance (G21) and the Barwon and Great South Coast Regional Partnerships, as well as RDA Committees in Victoria and bordering RDA committees in South Australia to identify synergistic opportunities to leverage regional effort and boost economic activity.
As well as these initiatives, RDA Barwon South West collaborate with relevant stakeholders to identify economic opportunities and leverage private and public-sector investment for the region - drawing upon the data, knowledge, experience and opinions of regional alliances, partnerships and networks.

The video below explains how RDA Barwon South West executes its principles in a collaborative, practical and efficient way to achieve regional prosperity.
---

Our Region
Fast Facts
403,569 people live within the Barwon South West region
243 kilometres of bitumen make up the length of the Great Ocean Road
$20 billion is shared within the region as gross regional product
The Surf Coast and Bellarine Peninsula are Victoria's fastest growing areas outside of Greater Melbourne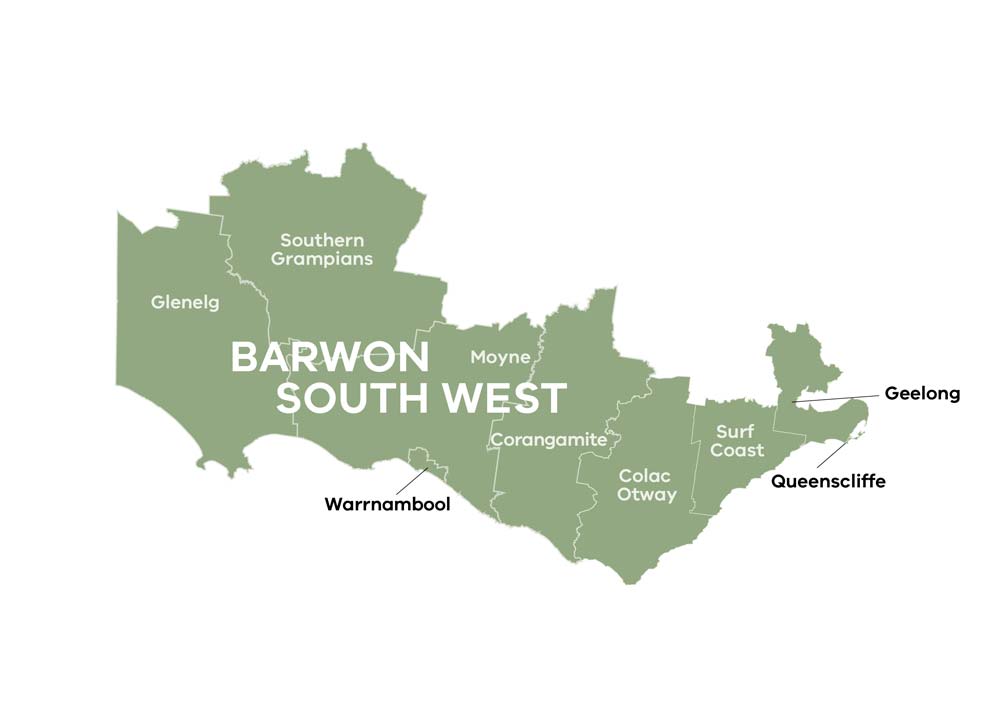 Barwon South West boasts three unique economies, one inland which is founded on agriculture, one on the coast that is dominated by tourism and amenity lifestyles, and one in Geelong which has a diverse economic and social base.
The largest employment industries across the region include manufacturing, health and retail trade - although there are significant opportunities for growth in new energy, advanced manufacturing and food security industries. Tertiary education institutions in the region include Deakin University, South West TAFE, The Gordon Institute of TAFE and various private providers.
There is a strong connection to international and interstate markets throughout the region, thanks to the deep-sea ports in Portland and Geelong as well as a strong road and rail network. Barwon South West plays a significant role in Victoria's visitor economy, as visitors travel to the region to visit the Great Ocean Road and benefit from the expansion of the Avalon Airport, just out of Geelong.
Major investments for the region by state and federal government include the Geelong City Deal and the Shipwreck Coast Master Plan. Currently there are over 400,000 people that call the region home and borders the nation's largest population growth corridor in the west of Melbourne which is expected to reach a population of more than 480,000 by 2022.