Victoria's third-most populous city, rich in culture and history and a centre for manufacturing, health, education and retail
| | |
| --- | --- |
| Local Government Area (LGA) | City of Ballarat |
| Neighbouring Local Government Areas | Golden Plains, Hepburn, Moorabool, Pyrenees |
| LGA Population, 2014 | 100,283 |
| Estimated Population, 2031 | 139,650 |
| Population Growth between 2006-2011 | 2.0%, an increase of 1,872 per annum |
| Forecast Population Growth | 1.9% per annum from 2011 to 2031 |
| Output (2014) | $4.59 billion Gross Regional Product |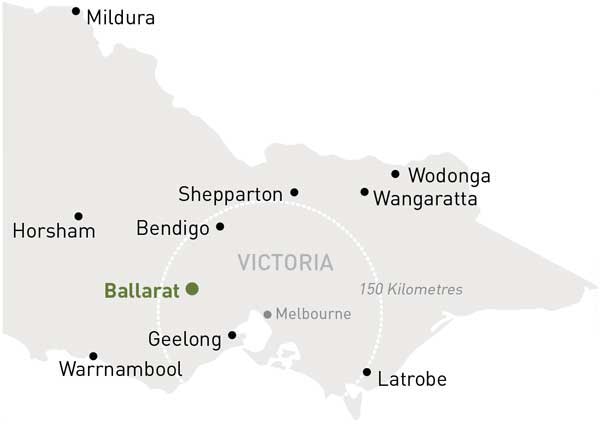 Steeped in history, Ballarat is Victoria's largest inland city, founded on the wealth of the famous Victorian gold rush, a legacy that continues today in Ballarat's grand architecture and streetscapes.
Located 110km northwest of Melbourne, Ballarat is a major manufacturing, health, retail and education centre, and the principal service centre for the eastern part of the Grampians Central Highlands Region.
Ballarat represents both historic and contemporary regional Victoria. The city contains a mix of established residential and greenfield areas, with a number of historic streets and houses in the central part of the city.
Culture and lifestyle
Ballarat has a thriving arts, tourism and cultural scene. The city is strongly influenced by its gold rush history, which sets it apart from other regional cities. The Art Gallery of Ballarat, established in 1884, is Australia's oldest and largest regional gallery, with a comprehensive collection of Australian art.
Ballarat has a diverse offering of entertainment including, local theatrical performances, music at local bars and pubs, larger international acts, and performances at iconic venues like Her Majesty's Theatre. The city hosts various festivals throughout the year, including the Rockabilly Festival, Begonia Festival and Heritage Weekend. Ballarat also hosts a Chinese Mooncake Food Festival.
Employment, industry and infrastructure
Ballarat has about 7,473 businesses and a workforce of approximately 41,300 people.
Ballarat has a traditional background in manufacturing which remains an important industry including the manufacture of transport equipment, sugar and confectionary and the processing of food and vegetables. However, a number of other industries including health care, retail, education, financial services and construction are also strong contributors to the city's output and employ a growing number of residents. In the five year period 2009-2014, there was strong employment growth in transport, postal and warehousing; electricity, gas, water and waste services; health care and social assistance; professional services; construction and education and training.
Strategic local partnerships with the growing information technology sector and tertiary institutions are contributing to the increasing importance of Ballarat as a knowledge centre. Tourism is also important as an industry, thanks to the city's gold rush history.
Ballarat is in a key strategic position with four main highways (the Western, Midland, Glenelg and Sunraysia) connecting it to the industrial centres of Melbourne, Adelaide, Geelong and Portland; the regional cities of Bendigo and Mildura; and agricultural areas in the Mallee and Wimmera. Melbourne International Airport and the ports of Melbourne and Geelong are located within a one-hour travel time of Ballarat.
The Western Link Road will ultimately link the Western Freeway to the Midland Highway. It will provide an important road link between the City of Ballarat and its surrounding areas and will serve new developments in the Ballarat Employment Zone, Airport precinct and residential developments in Ballarat West.
Ballarat is one of the key beneficiaries of the Regional Rail Link, which is designed to remove major bottlenecks in Victoria's rail network by untangling metropolitan and regional tracks as they travel through Melbourne's west. Regional Rail Link will lay the foundations for future expansion of the rail network to meet the needs of Victoria's growing population.
| Major Businesses | Industry |
| --- | --- |
| MaxiTrans | Transport equipment manufacturing (trailing) |
| FMP Group | Transport equipment manufacturing (brake and friction materials) |
| McCain Foods | Fruit and vegetable processing (frozen food) |
| Mars | Sugar and confectionary manufacturing (snack foods) |
| IBM | Computer system design and related services |
| Haymes | Chemical manufacturing (paint products) |
| Ballarat Health Services | Health care and social assistance |
| Federation University Australia | Tertiary education |
| Alstom | Rail infrastructure |

The RDV information portal has more detailed data and statistics on the Ballarat region and regional Victoria more broadly.