More car parks on the way for Ballarat
29/07/2021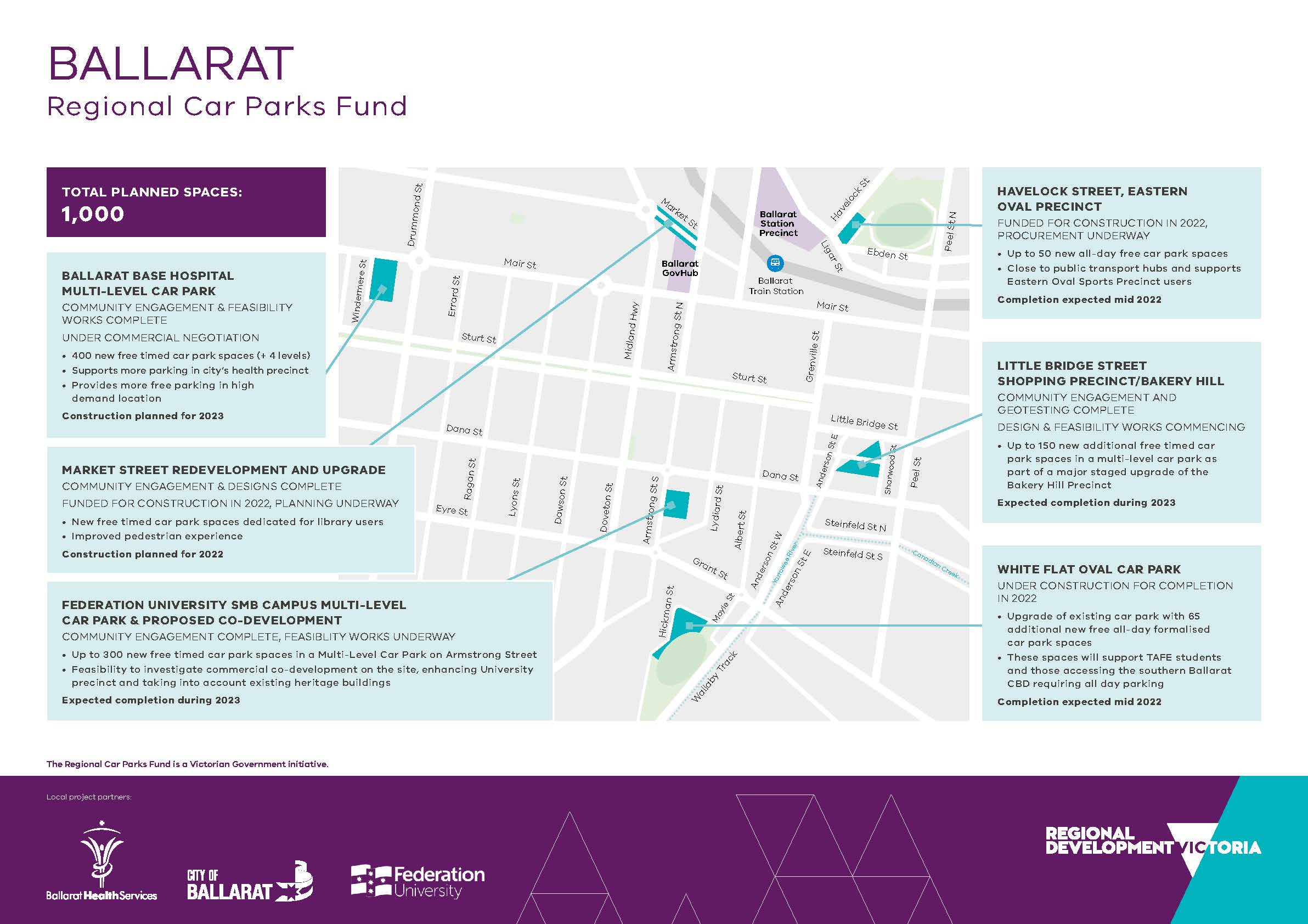 Works are set to begin at three sites across in Ballarat, as part of the Victorian Government's commitment to deliver 1000 free car parks for Ballarat locals.
Market Street is one of the three sites and is ideally located nearby the recently opened GovHub. The site will contribute to an estimated 100 additional free spaces expected to be completed by the middle of 2022, along with car parks at White Flat Oval and Eastern Oval.
Ballarat locals and businesses will also have an opportunity to have their say on another four sites with feasibility testing to take place, delivering 1,000 free car parks.
This is on top of the almost 1,000 car park spaces delivered over the past two years as part of major projects and redevelopments in Ballarat, including the Ballarat Station precinct and Ballarat GovHub.
The project is being funded through the Regional Car Parks Fund, which is also creating free car parks in the Latrobe Valley.
Four sites have been selected for detailed assessment after investigations by Regional Development Victoria in partnership with the City of Ballarat and Ballarat Health Services, which determined areas within and outside the CBD experiencing the most parking pressures.
Shortlisted sites also include:
up to 400 new free spaces to make life easier for patients and visitors as an extension to Ballarat Base Hospital's Mair Street multi-level car park
up to 300 multi-level spaces at Anderson Street West, south of the Grenville and Dana Street roundabout
up to 300 multi-level spaces on the Armstrong Street side of Federation University's School of Mines Ballarat campus
up to 300 multi-level spaces in a major staged upgrade of the Little Bridge Street Bakery Hill precinct.
To provide feedback on the proposed sites, including the Market Street redevelopment, visit engage.vic.gov.au.