RDA Loddon Mallee is a committee of local leaders who work together to champion projects and initiatives that contribute to the economic prosperity of the Loddon Mallee region.
RDA Loddon Mallee's vision is to enhance the liveability, productivity and sustainability of the region. This will be achieved by working with the community and all levels of government in a proactive and collaborative way.

Who We Are
Established in 2010, the RDA Loddon Mallee committee works to coordinate regional priorities and develop a unified voice for the Loddon Mallee region.
RDA Loddon Mallee is jointly administered by the Commonwealth and Victorian Governments, and represented in Victoria by Regional Development Victoria - the Victorian Government's lead agency responsible for rural and regional economic development.
---
RDA Loddon Mallee Committee Chair, Linda Beilharz OAM
Linda Beilharz OAM is the Chair of RDA Loddon Mallee and has held the role since 2015 - advocating for economic growth in the region. With an extensive career in regional Victoria in social services and the health sector, Linda has a strong understanding of regional issues and opportunities across the Loddon Mallee region.
An avid flyer, Linda is currently the Chief Flying Instructor for the Bendigo Flying Club and the Vice President of the Victorian Branch Australian Women's Pilots Association.
Prior to her appointment to Chair, Linda was Executive Officer of Women's Health Loddon Mallee, a Director of Journeys for Learning and a founder of the Bendigo Sustainability Group, a community group focused on growing a sustainable future for Bendigo.
Earning the nickname, the 'Icy Pole Lady', Linda was the first Australian woman to successfully ski to both the North and South poles – each effort taking two months to complete - as part of a ten-year effort to journey across each of the world's four largest icecaps (including Greenland and Patagonia).
From her exploration, Linda was awarded the Order of Australia Medal, elected Bendigo Citizen of the Year in 2013 and was also named the National Geographic Explorer of the Year in 2010. Her commitment to health and wellbeing in the region saw her inducted into the Victorian Honour Roll of Women in 2006.
Linda lives in Bendigo with her husband and is an active member of the AlpineSAR as a specialist in snow and alpine search and rescue, and a member of the Bush Search and Rescue.
Qualifications:
Masters in Health Science, La Trobe University
Graduate Diploma in Community Development, RMIT University
Graduate Diploma in Special Education, University of Melbourne
Bachelor of Education, University of Melbourne
Areas of expertise:
Flight training and airport operations
Education
Regional planning
Leadership
Local government
Community development
Industries:
Not-for-profits
Health and welfare services
Local government
State and federal government
Education
Aviation
Community services
Tourism
Linda Beilharz LinkedIn profile
RDA Loddon Mallee Committee
Leonie Burrows - Deputy Chair
Herbert Hermens
Peter McAllister
Dianne Bowles
Geoff Kelly
Craig Niemann
Margot Stork
Damian Tangey
Robert Jardine

What We Do
As an important voice for the region, RDA Loddon Mallee harnesses its ability to diagnose and coordinate solutions for regional challenges to increase economic participation and outcomes.
The committee promotes and disseminates information on policies and grant programs to provide advice and support for projects that align with regional priorities.
With a long-term view, RDA Loddon Mallee has a key role to play in directing state and federal investment to the right infrastructure and community projects, ensuring there is a strong and impactful pipeline of investment into the region.

Who We Work With
The Loddon Mallee region encompasses 10 local government areas stretching from the outskirts of Melbourne to far north-western Victoria.
Bringing people and ideas together, the RDA Loddon Mallee committee collaborates with business, not-for-profits, industry bodies and the three levels of government to foster comparative advantages in agriculture, food processing and other regionally significant industries.

Our Region
Fast Facts
336,266 population in Loddon Mallee Region
$36 billion economic output for the Loddon Mallee Region
Healthcare and Social Assistance biggest employment sector
59,000 square kilometres, the largest region in Victoria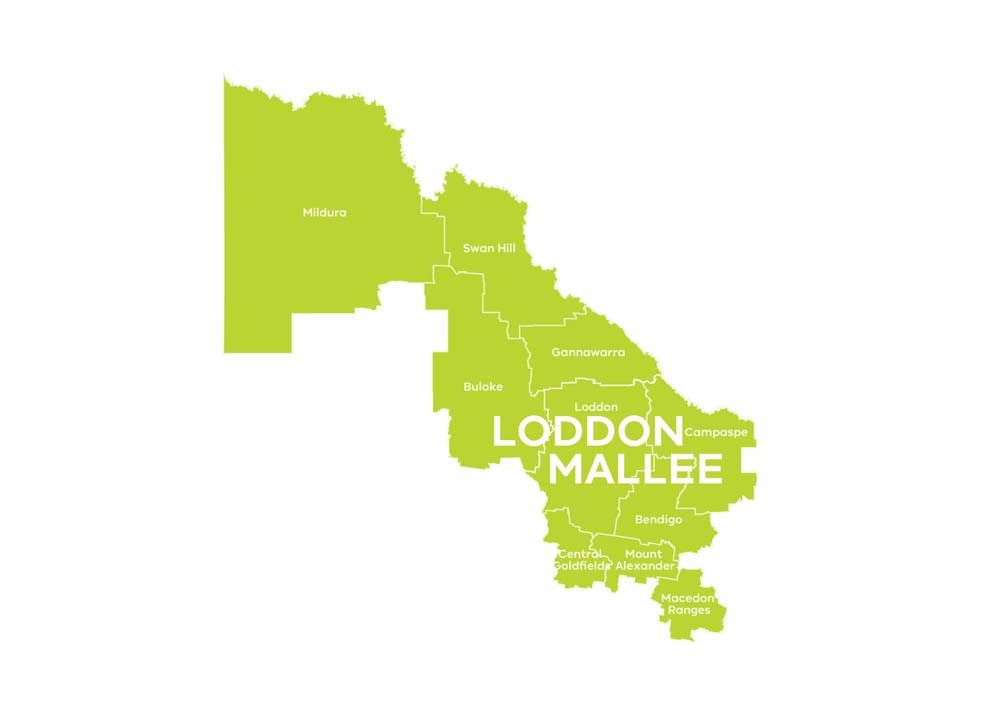 Taking a whole-of-region approach, RDA Loddon Mallee has a birds-eye view on the challenges and opportunities that exist within the region. The committee is uniquely placed to leverage and coordinate regional effort and influence policy decisions from within state and federal government.
The region is home to the prosperous and vibrant regional cities of Bendigo, one of the state's largest and fastest growing regional cities and Mildura, the largest urban centre on the edge of the outback.
It encompasses 10 local councils including Bendigo, Buloke, Campaspe, Central Goldfields, Gannawarra, Loddon, Macedon Ranges, Mildura, Mount Alexander and Swan Hill.